Budweiser Has a New Nitrogen-Infused Golden Lager That You Shake Before You Drink
My science knowledge is rather limited (hello, writer here), so I don't really understand why nitrogen-infused drinks provide a superior drinking experience. But they do. Ever tried Guinness? Nitro Cold Brew? They're smooth, rich in flavor, and decidedly better than those without. And now, Budweiser is introducing its own variant, a "first of its kind" golden lager brewed with nitro. 
On Monday, the Missouri-based brewer announced the launch of its Nitro Reserve Gold. And as if the name weren't enough to warrant your attention, the flavor profile should. The 5% ABV beer, which landed in stores nationwide March 2, features a silky smooth and bold taste with notes of toasted caramel malt.
"We're very excited about the introduction of Budweiser Nitro Reserve because it meets the growing demand for premium products and the rise in popularity of nitro infused beverages," VP of Marketing Core & Value Brands Ricardo Marques said, according to BrewBound.
But it's more than just the taste and texture that sets this beer apart. It's also the self-pouring ritual. Unlike your typical beer, which you probably don't wanna shake up right before enjoying, Budweiser suggests drinkers shake the Nitro Reserve Gold three times to "infuse the nitrogen gas bubbles throughout" and then pour straight down the middle of the glass.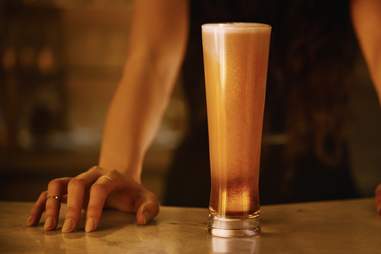 Courtesy of Budweiser
"The nitrogen bubbles are at the top of the can, so in order to hit peak refreshment, the drinker must flip the can several times in order for them to mix with the beer," Marques told Food & Wine. "If our recommended pouring ritual isn't implemented the beer won't be as smooth as it could be." 
Sign up here for our daily Thrillist email and subscribe here for our YouTube channel to get your fix of the best in food/drink/fun.
Megan Schaltegger is a staff writer at Thrillist.