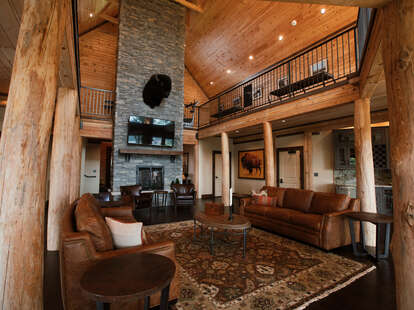 Photo courtesy of Buffalo Trace Distillery
If the prospect of going on an all-expenses-paid $10,000 trip for two at an exclusive, ultra-private distillery guest house is something that piques your interest, you're in luck. There is only one thing you have to do to get it. Run (literally, though.)
Buffalo Trace Distillery recently made history. Since Prohibition, it has managed to fill its eight millionth barrel of bourbon, and to celebrate both the milestone and all the bourbon enthusiasts who helped the iconic distillery achieve its goal, it is giving away the chance of both winning some rare bottles of booze and going on an incredible trip.
One lucky winner will be able to stay on-site at the distillery at its private guest house, dubbed the Stagg Lodge. The lodge has never been offered to the public before, and it is an invite-only accommodation. Sprawling across 4,000 square feet, the cabin is located on the edge of the Whiskey Farm, which overlooks the distillery, the Kentucky River, and downtown Frankfort. It features five bedrooms, four bathrooms, and a gorgeous double-sided fireplace, and guests will be able to access a wrap-around deck offering incredible views.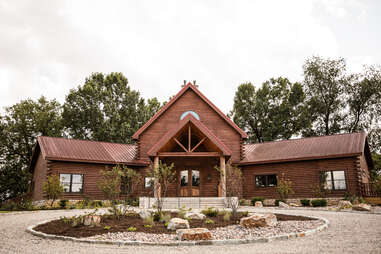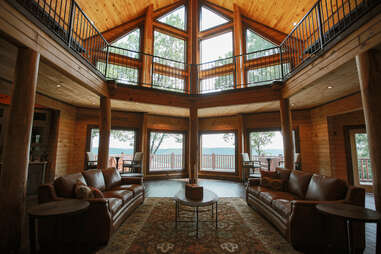 All you gotta do is, quite literally, run for the booze (or, at least, promise that you will). In order to participate in the giveaway and be selected as a winner, you have to either run, walk, jog, sprint, or even cheer someone on in the name of bourbon, and you only have to do it for one mile. You will then be asked to enter your submission on this website, and you have until February 18 to do so. The winner will be notified by the end of February, and the stay will take place later this year.
"The passion we see from our fans is the most inspiring part of what we do," Harlen Wheatley, master distiller, said in a statement. "We're asking people to run just one mile for a chance to join us at Buffalo Trace Distillery for a specially curated bourbon experience, and the opportunity to stock their bars with an exclusive collection of some of our finest bourbons for the new year and beyond."
In addition to a two-night stay (one at the Stagg Lodge and one in Louisville), the trip will include first-class airfare for two, dinner for both nights prepared by the distillery's private chef, private tours of the distillery's grounds, an $800 gift card for gift shop merchandise, and Buffalo Trace Distillery's bourbon donation to a 501(c) charity mutually agreed upon with the winner.