Everyone in the U.S. Gets Free Buffalo Wild Wings if the Super Bowl Goes Into Overtime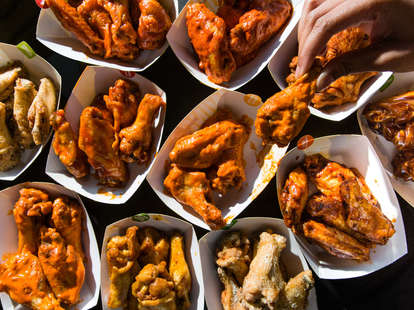 America's passion for chicken wings knows no bounds. Previously, the National Chicken Council estimated Americans eat around 1.3 billion wings on Super Bowl Sunday.
Buffalo Wild Wings will cash in on your poultry love by offering everyone in America the opportunity to win free wings during the Super Bowl on February 2. If the Super Bowl goes to overtime, as it did during Super Bowl LI in 2017 (the only time the game has ever gone to overtime), BWW giving everyone free wings on February 17 from 4-7pm.
The odds aren't that great. Vegas thinks Americans have about a 10% chance of winning a free wing dinner. You'll take those odds (again) since you don't have to bet anything to get a piece of the winnings.
"Football fans love to have fun with our established connection to overtime, tweeting at us any time a game goes to extra time. That was taken to the next level last year when free wings were on the line, so we knew we had to bring this program back," Seth Freeman, Chief Marketing Officer, said in a statement.
The low-risk gamble only requires that you keep it in the back of your mind and cheer for a tie if the game is close in the fourth quarter. Your rooting interest just changed to yourself and wings. Failing that, there's always BOGO wings on Tuesdays and Thursdays.
Sign up here for our daily Thrillist email and subscribe here for our YouTube channel to get your fix of the best in food/drink/fun.