Buffalo Wild Wings' Weekly Free Wings Deal Is Back After 2 Years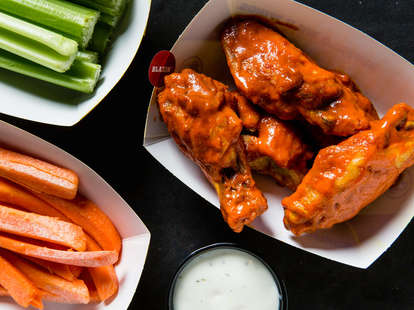 Cole Saladino/Thrillist
Cole Saladino/Thrillist
When you run a promotion for almost 35 years and allow it to disappear in a puff of smoke, people will have strong feelings. Buffalo Wild Wings has tried new things, but now it's going to try something old. After a two-year hiatus -- andloadsoftweetsaskingforits return -- it is bringing back Wing Tuesdays.
When you're dining in on a Tuesday and place an order for traditional wings, you'll get an order of traditional wings for free. However you look at it -- half-price wings, BOGO wings -- it's a win. You're getting more wings on Tuesdays.
Traditional Wings at Buffalo Wild Wings are bone-in, none of this chicken nuggets for adults (boneless wings) non-sense. Though it sounds like you're getting buffalo wings, it doesn't have to just be your traditional buffalo flavoring. You can add whatever sauce you'd like, which means you're free to get as wild as you'd like. (We can help. Check out this list of all B-Dubs sauces ranked by their wildness.)
"We recognize how important Wing Tuesdays is to our story, and we're thrilled to bring back this iconic program to all sports bars," said Seth Freeman, the company's chief marketing officer.
The announcement was made not by the wing slingers, but by someone who has sources you trust, ESPN's Adam Schefter. Having the NFL insider make the announcement is all part of the wing chain's effort to return "to its roots as the Great American Sports Bar," it said in a statement. (And because you watch a lot of NFL games at B-Dubs on... Tuesdays?) At least you'll soon be able to watch meaningful MLB and MLS games, the WNBA playoffs, and the start of the NBA and NHL seasons while you dig into your BOGO wings.
Sign up here for our daily Thrillist email and subscribe here for our YouTube channel to get your fix of the best in food/drink/fun.