This $4M Super Yacht Comes With a Fire Pit and a Jacuzzi
With the wind in your hair, the sun at your back, and a $4 million, 50ft, leather and blue morta oak deck sitting under your ass, you'll feel a bit like James Bond as you speed along the waves in Bugatti's latest innovation -- a yacht the ultra-luxury car brand calls the the Niniette 66. 
Paired with its super-fast high-end model, last year's Chiron, the Bugatti boat is part of a collaboration between Bugatti and Palmer Johnson, one of the hottest builders of superyachts in the world. The Niniette is an exercise in excess, constructed with the sweeping line work and design elements Bugatti's known for, and comes with a Champagne bar, jacuzzi, and fire pit built into its deck. Based on the photos and concept work provided below, none of those leisurely additions clutter up the yacht's elegance. According to press materials, Bugatti first approached Palmer Johnson with the idea of a collaboration in 2015, with the goal of bringing "the unmistakable design DNA of Bugatti" to, well, a yacht.
"The challenge was to create an experience and a persona as much as a yacht, from streamlined luxury, sophisticated style and unprecedented quality," Timur Mohamed, CEO of Palmer Johnson, said. "For owners of tomorrow, Niniette will lift your expectations of life even higher."
When you have the kind of money to blow on a yacht that comes with a fire pit, jacuzzi and Champagne bar -- presumably after you've purchased a $2.6 million Bugatti Chiron, a supercar with a top speed the company had to electronically cap at 260 mph -- yes, your expectations for the rest of life will necessarily skyrocket. As soon as MI6 wises up and makes me their top globe-trotting 00-class secret agent, I plan on expensing this. Until then we can all admire the photos.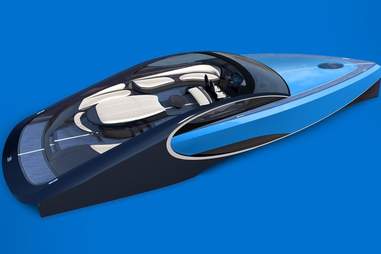 Bugatti
An overhead view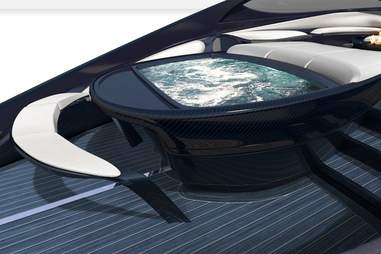 Bugatti
The jacuzzi
Bugatti
The fire pit
Bugatti