Bumble Will Pay You to Travel the World for a Year and Go on Dates
As fun as dating can be, it's also a bit of a nightmare, especially if you live somewhere with a desolate singles scene...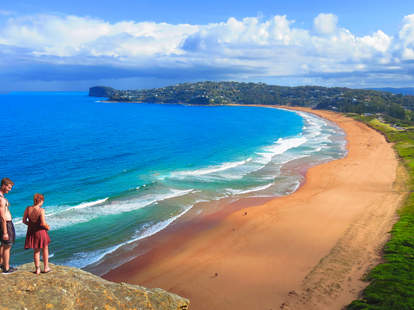 As fun as dating can be, it's also a bit of a nightmare, especially if you live somewhere with a desolate singles scene. Eventually, it can even convince your that you'd be better off gallivanting around the globe in hopes of meeting a more promising crop of people. Well, that's exactly what you could end up doing if you land this new dream gig from the dating app Bumble, which is looking to hire one lucky person to take off on an all-expenses paid year-long dating adventure around the world.
If the idea of traveling the world on someone else's dime while getting paid to meet new people wherever you are sounds appealing, you may want to throw your hat in the ring to become Bumble's new "Global Connector Bee." The gig, which is paid, will involve a 12-month stint spent traveling to various parts of the world to "go on dates, make friends, and create professional connections" with other Bumble users. All the while, you'll be documenting your experience for Bumble's various social media channels, conducting "research," and occasionally creating editorial content for the company. Essentially, you'd become Bumble's global emissary.
"We are a global company on a mission to connect great people in a kind and empowering way," said Chelsea Maclin, Bumble's vice president of marketing, in a press release "As our company and community of users continues to grow, it's so important for us to advance our on-the-ground research about the global dating culture so we can optimize our product offerings for new communities and future generations."
Your travels will take you to places around the US, Canada, the UK, and Australia (all expenses covered, of course). And while it'll be exciting to hop from area to area, don't expect it to be an all-out vacation. You'll be expected to produce quite a bit of content while exploring and meeting new folks, as well as providing product feedback. It's a real-deal job, and you'll be getting paid (compensation will be based on experience).
If you're interested, the position is open to anyone older than 18 in the aforementioned countries. To apply, you'll need to swipe in the Bumble app until you see a card about the job pop up, then swipe right on it (it'll be live through the application deadline of June 14). From there, you'll apply in-app by answering a few questions about yourself, and since they're looking for experienced and creative folks you'll also want to have a portfolio ready that showcases your content creation abilities (could be anything from photography, to vlogging, to a strong social media presence).
Who knows, if the stars align you may even end up with one hell of a "how we met" story.
Good luck out there.

Sign up here for our daily Thrillist email and subscribe here for our YouTube channel to get your fix of the best in food/drink/fun.