After Dr. David Dao was violently removed from United Flight 3411 on April 9 of 2017, United Airlines unveiled 10 major policy changes. The goal was to keep involuntary removals from looking how they sounded (in the case of Dr. Dao, that was a broken nose, two lost teeth, and a concussion).
But involuntary and voluntary removals aren't going away, though online information resource UpgradedPoints says that getting bumped is becoming less common overall. This finding was part of a larger study that determined which airlines are most likely to overbook on purpose then politely ask you to change all of your plans. The winner? Our good pal and budget airline, Frontier.
To complete the study, researchers looked at the year-over-year change in involuntary denied boardings from the top US airlines. Based on their analysis, Frontier Airlines has the highest number of involuntary denied boardings per 100,000 passengers, with 6.28 bumped passengers per 100,000 people, according to the report. That may not sound like a lot but, considering what you're already giving up by flying a budget airline (checked bag, leg room, a little bit of self respect), the news comes as a low blow.
Here's the rest of the ranking: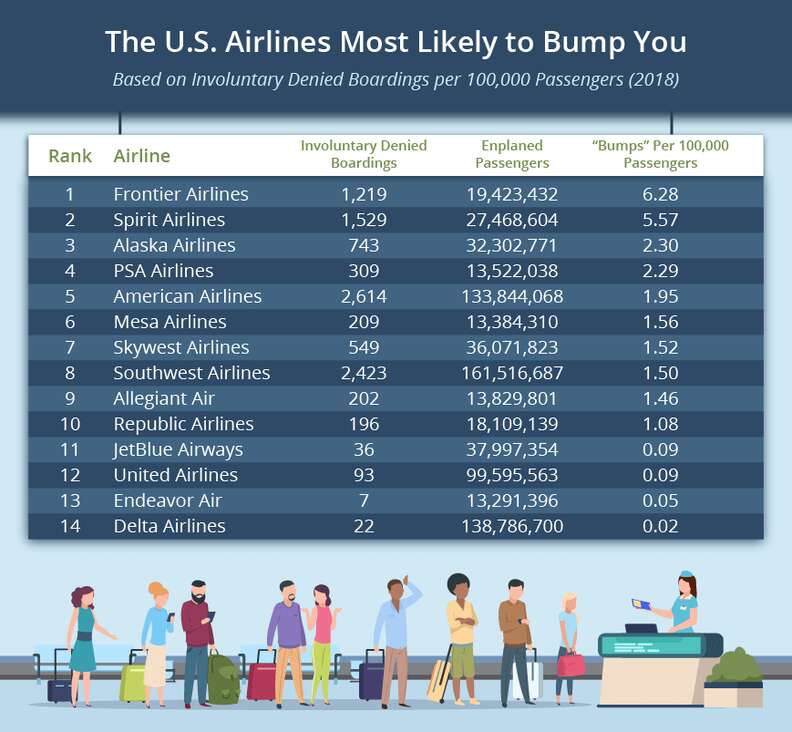 You'll note above that the discount airline Spirit actually has the highest number of involuntary boardings but, because of its higher number of passengers, their ratio of bumped passengers to total passengers is better overall.
And it goes without saying that Delta Air Lines gets the gold star here. Sure, Delta might not toss out $49 flights or play games with you at the terminal like daddy Southwest does, but at least they won't overbook their schedule and abandon you, ruining your ability to feel secure in all future airline relationships.
Sign up here for our daily Thrillist email and subscribe here for our YouTube channel to get your fix of the best in food/drink/fun.