Burger King Is Bringing Back Spicy Nuggets Just for 4/20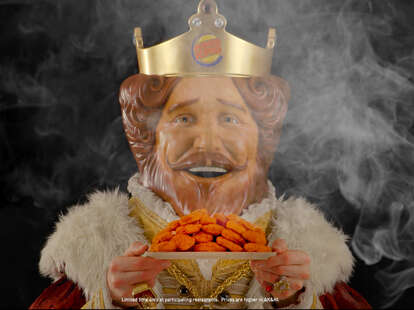 Edited - Courtesy of Burger King
It was inevitable. The legalization of recreational marijuana, in addition to the expansion of medical marijuana, is creeping across the country. So, of course, big food brands were going to start celebrating weed holidays if they weren't already. Fast food joints were unintentionally celebrating already (or at least reaping the rewards) given the dearth of places for a quick bite at midnight on any given April 20.
On April 20, aka weed Christmas, you can get nugs after nugs because Burger King is bringing back its coveted spicy chicken nuggets for just one day.
The burger monarch briefly introduced the nuggets last October by taunting Wendy's on Twitter because Wendy's had just recently discontinued its own spicy nuggets. Even after its semi-childish introduction of spicy nuggets, Burger King kept ribbing Wendy's. It began promoting tweets from random people who were asking Wendy's if its spicy nuggets were coming back.
Burger King's nuggets are made with a spicy "home-style" breading that give it a nice spicy kick. The munchies-worthy deal comes cheaper than a bag of shake. You can pick up a 10-pack of spicy chicken or original nuggets for just $1.69.
Sign up here for our daily Thrillist email and subscribe here for our YouTube channel to get your fix of the best in food/drink/fun.

Dustin Nelson is a News Writer with Thrillist. He holds a Guinness World Record but has never met the fingernail lady. Follow him @dlukenelson.