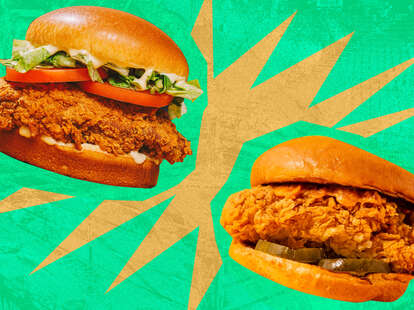 Photos courtesy of Burger King and Popeyes/Illustrations by Grace Han/Thrillist
Photos courtesy of Burger King and Popeyes/Illustrations by Grace Han/Thrillist
Over the past year alone, I've tackled my fair share of fried chicken sandwich taste tests—in the name of service journalism, of course—with one mission in mind: Find a new contender that could possibly topple the sensational, Fasties award-winningPopeyes Chicken Sandwich.
So far, there have been some close calls. Church's Chicken landed just behind Popeyes on Thrillist's definitive fast food fried chicken sandwich ranking, and KFC damn-near matched its fellow Southern-style chicken chain in a head-to-head taste test earlier this year. But Popeyes has stood its ground and—despite the arrival of so many other chicken sandwiches jumping into the crowded arena—has remained the one to beat.
With the launch of Burger King's all-new Ch'King sandwich, there's yet another new sandwich in town, so its time to once again put it to the test. Can Popeyes keep its crown when put up against the king's new and improved recipe? I took it upon myself to find out.
In the days leading up to the Ch'King's arrival on the menu, I got my hands on the respective sandwiches for a grease-filled and—admittedly—subjective side-by-side taste test to help answer this question.
Where can you get Burger King's new chicken sandwich?
While Burger King already tested the Ch'King Sandwich in select markets, it officially joined the menu nationwide on June 3. Before now, it was among the few major fast food chains that hadn't yet launched a new chicken sandwich since Popeyes changed the game in late 2019. Burger King has admitted that it took its sweet time, saying in a recent press release, "We committed to not half a**ing our sandwich, and we meant it." Unfortunately, we noticed in our research that the Ch'King is priced around a dollar more than Popeyes' sandwich—the $5-$6 range versus the $4-5 range, depending on location, though a spokesperson for Burger King claims that the chain's suggested pricing starts at $4.
The Overall Sandwich
Much like its fast food nemesis, McDonald's, Burger King is whipping up three different versions of the fried chicken sandwich: classic, spicy, and deluxe.
Let's break them down. The Ch'King Sandwich is just what you'd expect: a crispy, fried chicken filet on a toasted potato bun with pickles and a signature mayo-based sauce. The Spicy Ch'King Sandwich has all of that, but with the addition of a spicy glaze. The Deluxe Ch'King Sandwich, however, sports a different set of toppings altogether—it comes with either the regular or spicy fried chicken (your choice) topped with lettuce and tomato, but no pickle.
So, how does the lineup compare to Popeyes? Popeyes doesn't offer a deluxe version, but its spicy and classic iterations are pretty similar, with pickles and sauce. The bun is where there's a difference, though, as Popeyes uses a brioche bun as opposed to Burger King's potato bun.
The Bun
Speaking of brioche versus potato bun, where do we fall? While I could never slander Popeyes' perfectly soft, buttery brioche, I'm a potato bun stan through and through. Burger King took the easy W on this one. It's fluffier, lighter, and the perfect complement to that crispy chicken. Best of all, we found BK's potato buns to be in near-perfect condition—not a single smush—in our testing of multiple sandwiches. They almost looked fake.
The Chicken
There's no debate, the chicken on a chicken sandwich is naturally the best, and most important, part of the equation. Burger King's new hand-breaded filet is substantial—instantly rivaling that of Popeyes—and had a deeper, more golden-brown hue to it. My suspicions were confirmed upon my first bite: Burger King could very well upend the chicken sandwich wars with this thing. Its chicken has the perfect crunch and juicy, flavorful chicken. The breading-to-meat ratio? Ideal. And while Popeyes' chicken has a bit more va va voom thanks to its Cajun-style seasoning, Burger King's offers the same level of crunch from the breading, which is a lot considering Popeyes is a fried chicken chain and Burger King is a burger chain. Impressive.
The Pickles
I've said it before and I'll say it again: Pickles are an integral part of any fried chicken sandwich. Burger King's are consistently large (think silver dollar size slices) and flavorful, but a little lacking in thickness and crunch. And if we're being fair, they're never going to top Popeyes' crisp, barrel-aged pickles. Don't even get me started on the fact that BK omitted pickles in the deluxe version. A big mistake.
The Sauce
When it comes to the non-spicy versions of their chicken sandwiches, Popeyes and Burger King take a similar approach. Both use flavorful mayo-based sauces that add creaminess to complement the lean white meat chicken filets and tanginess to help cut through the greasy fried flavors. They follow the typical fried chicken sandwich playbook. Both are delicious.
The chains' strategies differ with their spicy chicken sandwiches, and in a meaningful way. While Popeyes employs a spicy mayo sauce to give its sandwich some kick, Burger King goes with a chicken filet that's coated in a spicy glaze, and interestingly, still includes the standard, savory sauce as well. I've always loved the noticeable heat level in Popeyes' spicy sandwich, and I was pleased to detect a similar level of heat in Burger King's glaze. However, the inclusion of the savory sauce cancels out a little bit of the BK sandwich's heat, which is kind of a bummer in my book. The spicier the better.
Both chains' spicy chicken sandwiches are superior to their classic versions, so when in doubt, order spicy.
Is Burger King's chicken sandwich better than Popeyes'?
Burger King may be late to the fast food chicken sandwich game, but I can confidently say that the Ch'King was well worth the long wait. Instead of rushing a new sandwich to market like other chains may have in the wake of Popeyes' success, the king seems to have summoned his royal research and development team and locked them away until they came up with a chicken sandwich worthy of his name. And it shows.
Biting into the Ch'King transported me back to when the Popeyes sandwich hit the scene. I felt that same "wow" factor again. The savory sauce, the spicy glaze, the wide pickles—BK hits all the right notes with its toppings. But where it really shines and impresses is with the chicken. It's as juicy as a fast food white meat filet can be and its breading is shockingly crunchy, coming from a burger chain. All of these elements add up to a chicken sandwich that—finally—rises to Popeyes' level, though at a slightly higher price.
I'm sorry to say, it's a draw. I don't have a clear winner for you. That may not satisfy some of the more serious fast food devotees of the world, but I think we can all agree that statement in of itself carries a lot of weight. No fast food chain (fast casual is another story) has come this close to outdoing Popeyes' sandwich. The fact that this taste test ends in a tie says a lot.
Megan Schaltegger is a staff writer at Thrillist.