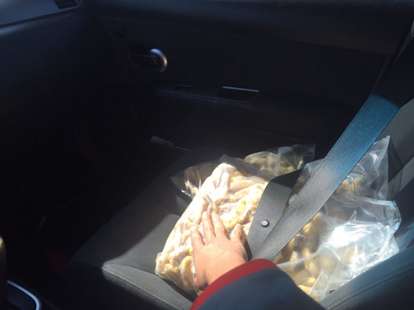 Depending on how much you love or hate your job, you've probably fantasized about the day when you finally throw down your computer and gloriously exit the building while everyone -- and your boss -- watches in astonishment. Well, one guy may have just set the bar for making a grand exit when he left his job at Burger King last Saturday, allegedly taking all the damn chicken nuggets with him.
As reported by Mashable, some dude who calls himself Zealot on Twitter quickly became an idol among disgruntled workers everywhere after posting photos of his edible severance package on his last day at the fast food chain. The tweet (and related posts he made) have since been removed from his account, but an embed in the report remains showing what appear to be several giant packages of the presumably frozen chicken nuggets, safely strapped into his passenger seat. Additionally, the tweet, which had been retweeted more than 37,000 times before it was removed, read: "TODAY WAS MY LAST DAY WORKING AT BURGER KING SO I TOOK ALL OF THEIR NUGGETS, FUCK IT".
So far, it's unclear as to why the tweets were taken down; however, Zealot posted a fairly cryptic message late on Tuesday afternoon:
Yeah, beats us. All we know is that if he was smart enough to carefully secure the stolen nugs with a seatbelt, he's almost certainly going places.
Sign up here for our daily Thrillist email, and get your fix of the best in food/drink/fun.
Tony Merevick is News Editor at Thrillist and actually hasn't had a chicken nugget in a long time. Send news tips to news@thrillist.com and follow him on Twitter @tonymerevick.