Burger King Is Giving Out Free Impossible Whoppers to Travelers Over the Holidays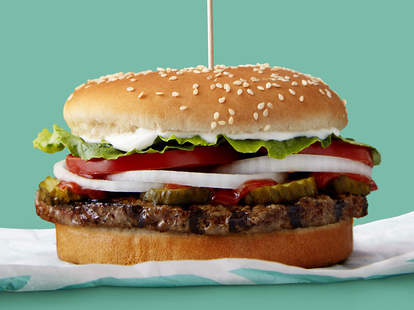 You know that feeling when you've had an utterly crap day and someone does something nice for you? The bartender reads the frustration on your face and slides a free drink your way. Or someone hands you a flower on the street for no reason other than to make you smile.
This isn't quite that altruistic, but you'll like it nonetheless. Flight delays are a persistent and awful headache over the holidays. Burger King is offering a reward when you're forced to endure a delay over the holidays. You will get a free Impossible Whopper, and you basically don't have to do a damn thing to get hooked up. 
From December 18-30, travelers at any US airport can get a coupon for a free Impossible Whopper when their flight is delayed. Just download the BK app, and enter your flight details into the "Delay Your Way" screen. You'll instantly get a coupon in the app, which can be used whenever you'd like.
It makes for a pretty simple way to try out the meatless burger that has been such a hot item in 2019. You won't have to exit the year with no clue what anyone is talking about. Or, at least, you'll know what they're talking about with regards to Impossible burgers. No promises that you'll instantly understand Post Malone or why this Christmas tree made of scissors is a thing.
Sign up here for our daily Thrillist email and subscribe here for our YouTube channel to get your fix of the best in food/drink/fun.