You Can Get Burger King Delivered for Free All Labor Day Weekend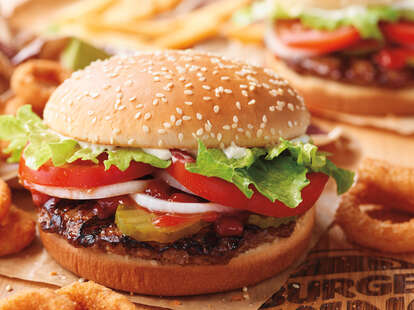 It's getting difficult to find fast food restaurants that won't deliver to your doorstep or cubicle one way or another. Now, you can add Burger King to the list of lunch options when your boss keeps you at the desk straight through your lunch hour.
The ever-smiling King has started to offer delivery across the nation through DoorDash. (That's national, but not necessarily available out of EVERY Burger King.) Importantly, you can get Burger King delivered for free all weekend from the 1,300 locations DoorDash will be servicing.
To celebrate the launch, the chain is delivering flame-grilled burgers gratis from August 31 through September 2, as long as your order hits the $15 minimum. If you suck at grilling and want to pretend like you're cooking out, your plans are set.
"DoorDash's selection is unparalleled, and we are so proud to add Burger King as a partner in more than 1,300 locations nationwide," said Christopher Payne, COO at DoorDash. "Delivering iconic restaurant brands at the highest quality has enabled us to become an industry leader. This weekend's promotion adds another way for busy customers to enjoy their favorites from Burger King with the convenience of delivery."
So, load up on Whoppers, deconstruct them and drop the burger on an unlit park grill to impress your friends with your non-existent grilling skills. Or get caught in the act and have your friends think you're the weirdest person they know. It's a win-win situation.
Want more free food and food deals? Here's our running list of all the
free food
you can get right now. We even have a roundup of
the best pizza deals
you can get from national chains. You're welcome.
Sign up here for our daily Thrillist email and subscribe here for our YouTube channel to get your fix of the best in food/drink/fun.

Dustin Nelson is a News Writer with Thrillist. He holds a Guinness World Record but has never met the fingernail lady. Follow him @dlukenelson. dnelson at thrillist dot com