Burger King Is Giving Everyone Free Delivery Through March 29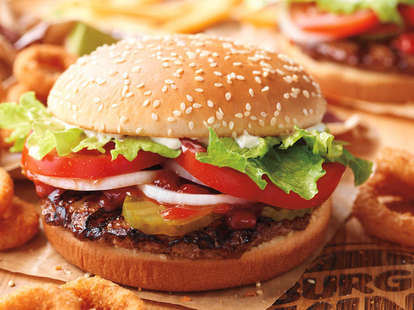 Once upon a time (last week), wearing sweatpants all day and having food delivered for every meal was borderline "lazy," but now -- in the age of social distancing -- it's just responsible. As such, it may be time to embrace our inner couch potato, especially now that almost all of our favorite fast food chains are doing away with standard delivery fees for the next few weeks.
In addition to Jack in the Box, Wendy's, and more, Burger King just announced its own delivery promotion in partnership with Grubhub. From now through March 29, the burger slinger is waiving delivery fees on orders of $10 or more. To score the deal, simply load your cart with the minimum (shouldn't be too hard) and you'll automatically qualify for free delivery. Yes, the service fee will still apply, but let's look at the glass half full here, people. I think we could all use a little optimism.
While Burger King has yet to announce any major closures, the promotion does follow the company's promise to keep guests safe during the COVID-19 outbreak.
A rep for Burger King released the following statement:
"We are proud to say we have best-in-class cleaning procedures in place in our restaurants worldwide. We have handwashing, sanitization and cleaning rules that make sense. We wipe down pin-pads and door handles. We disinfect tables, chairs and all the surfaces in our restaurants.In light of COVID-19, we have increased the frequency of these cleanings, which now occur multiple times every hour at each of our restaurants."
h/tChew Boom
Sign up here for our daily Thrillist email and subscribe here for our YouTube channel to get your fix of the best in food/drink/fun.
Megan Schaltegger is a staff writer at Thrillist.