Burger King Is Giving Students Free Whoppers. Here's How to Score Yours.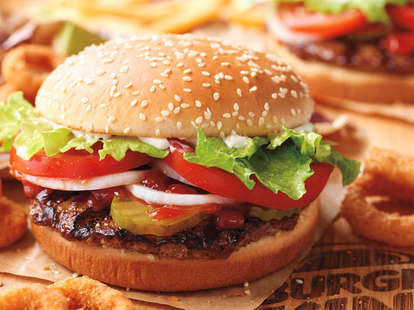 We've all had to adjust in this new age of social distancing, but for students across the world, the current reality has meant a shift in schooling. Gone are the days of bustling halls, packed lunchroom tables, and between class gossip sessions (unless over Zoom counts). For elementary through college-aged kids the classroom has gone digital. And while it's anything but an ideal way to finish out the school year, at least you can get a free burger out of it.
Beginning Monday, April 13, Burger King is giving students free Whoppers, but that's not without a little test. Gotta keep you kids sharp! To unlock the promo for your food freebie, you've got to answer an academic question and it can fall under a range of subjects -- math, biology, chemistry, or literature.
Every day through April 20, 2020, Burger King will release the problem on its social media channels. Students can then navigate on over to the BK app to plug in their answer for a chance to redeem a Whopper with any purchase. There is, however, a limit to one per student, so don't get greedy.
Like the majority of food and drink purveyors, Burger King continues to re-evaluate best practices in light of the COVID-19 crisis. A rep for the company provided the following statement:
"We are proud to say we have best-in-class cleaning procedures in place in our restaurants worldwide. We have handwashing, sanitization and cleaning rules that make sense. We wipe down pin-pads and door handles. We disinfect tables, chairs and all the surfaces in our restaurants. In light of COVID-19, we have increased the frequency of these cleanings, which now occur multiple times every hour at each of our restaurants."
Sign up here for our daily Thrillist email and subscribe here for our YouTube channel to get your fix of the best in food/drink/fun.
Megan Schaltegger is a staff writer at Thrillist.