Here's Every City Where You Can Get Burger King's New Impossible Whopper
The options are limited so far, but they're expanding.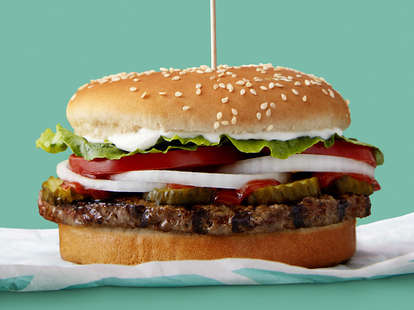 From Beyond Day to your weird friend Dale who can't stop talking about it, plant-based meat alternatives have taken a massive stride forward. It feels like they're everywhere, and that includes a growing number of fast food restaurants. Burger King tested a meatless Impossible Burger version of its classic Whopper back in April. (And it was pretty good, especially for something that appears far more sustainable than beef.)
The test was run at locations in St. Louis, and the company said the menu item performed "exceedingly well." It is now preparing to bring the 100% meatless Whopper to restaurants across the country. The chain will first test the burger in additional markets before a larger nationwide rollout. The plans are not terribly specific, but we now know who will be dipping their toes in the faux-meat waters next. Burger King has announced that locations in Miami, Florida; Columbus, Georgia; and Montgomery, Alabama will be getting the burger as part of what it is calling the Impossible Whopper Tour.
The tour bus will roll through cities bringing along "games, music, and free swag to celebrate the launch of the plant-based burger." The flame-grilled festivities will start in Miami on May 16-18. Then it will head to Columbus on May 20-21 before ending in Montgomery on May 22.
If you're jonesing for a vegetarian (not vegan) option at your local BK, expect the rollout to be slow. Maybe not impossibly slow, but slow. Though, Impossible may have an easier time scaling up after it recently announced it raised another $300 million in capital. Dale is going to be so happy.
Sign up here for our daily Thrillist email and subscribe here for our YouTube channel to get your fix of the best in food/drink/fun.