Burger King's Newest Monster: Cheetos-Dusted Chicken Fries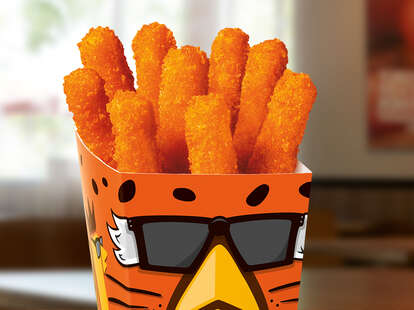 First, Burger King mashed together its classic Whopper cheeseburger with a burrito to create the beastly Whoppperito. Now, less than a month after releasing the Whopperrito nationwide, the crowned fast food chain is unleashing another insane stunt food mega-hybrid: Cheetos Chicken Fries.
Burger King announced the "dangerously cheesy" new menu item on Monday, saying they'll be available for a limited time at participating locations nationwide starting on Wednesday, September 14th. On its website, Burger King said the Cheetos Chicken Fries are made with white meat chicken that come covered in a crispy, Cheetos-flavored breading. In other words, they took the deep-fried cheesiness of the Mac n' Cheetos and slammed it together with regular Chicken Fries.
So far, it's unclear if the Cheetos Chicken Fries pack enough of the same Cheetos flavor that has long stained your fingertips -- something the Mac n' Cheetos unfortunately lacked in our recent taste-test. As for packaging chicken in the form of "fries," that's an issue for another day.
Sign up here for our daily Thrillist email, and get your fix of the best in food/drink/fun.
Tony Merevick is Cities News Editor at Thrillist and still hasn't tried the Whopperrito. Send news tips to news@thrillist.com and follow him on Twitter @tonymerevick.