Burger King Is Giving Out 'Mystery Boxes' Right Now for a Surprise During the Super Bowl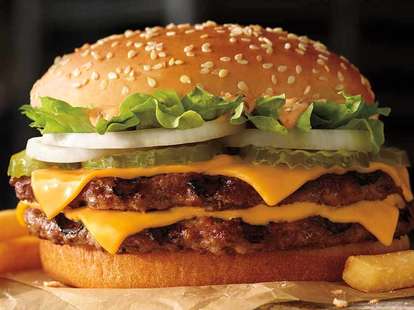 There's been a good bit of good Burger King news of late. First, there was that new sandwich trolling McDonald's; then there was the giving out that new sandwich to everyone for free. Now there's this. Whatever this is? We're honestly not sure.
On Thursday, Burger King announced that it's handing out Mystery Boxes up until the Super Bowl. If we could tell you what's in them, it wouldn't be a mystery, but we can tell you that they are boxes. To get one, BK says you just have make an order of over $10 on DoorDash and enter the promo code MYSTERYBOX and that box will arrive separately from your food order.
Then, you're supposed to keep the box until Super Bowl. And you'll get instructions. And then something will happen? A spokesperson would only say that it's somehow related to Burger King's first Super Bowl commercial in 12 years.
You should also note that DoorDash is giving customers $0 delivery fees on Burger King from now until after the Super Bowl on February 3. So you should feel free to order that new trollish sandwich, which is basically a Big Mac, with 175% more beef, plus American cheese, sliced onions, pickles, lettuce, and savory sauce on sesame buns.
As to what's in the box, while we don't know what's in it, you'd be a fool not to get it. Because who cares what it is? It's free.
Sign up here for our daily Thrillist email and subscribe here for our YouTube channel to get your fix of the best in food/drink/fun.