Burger King Has 59-Cent Cheeseburgers Today for National Cheeseburger Day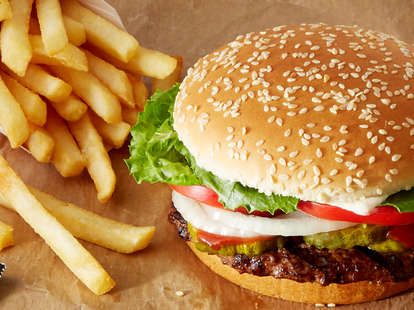 Get ready to storm the castle. Behind the gate, the King is holding cheeseburgers hostage. It's your mission, on this National Cheeseburger Day, to set them free. The only weapon you're allowed to use is the change you found in the couch cushions.
The mission is, in fact, quite possible on Wednesday, September 18. In honor of National Cheeseburger Day, Burger King is dishing out cheeseburgers for just 59 cents. There are a ton of deals available on National Cheeseburger Day, but they aren't going to get much cheaper than this.
Here's how to get one: The deal is exclusive to the BK mobile app. So, download the app and place your order. If you try to order at the counter, it'll be a no-go. (Though, they'll certainly serve you.) The app will limit your rewards to one redemption per customer, and the offer is only good on cheeseburgers. If you're swinging by to try the new Impossible Whopper, you're going to be paying full price.
And just like that, you've taken the castle without all the unnecessary bloodshed wrought by Daenerys.
Sign up here for our daily Thrillist email and subscribe here for our YouTube channel to get your fix of the best in food/drink/fun.