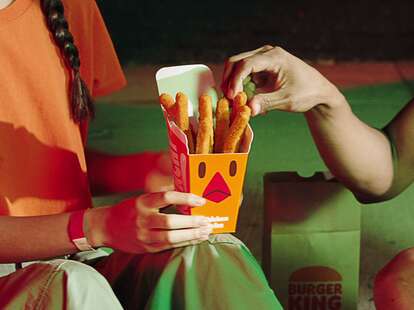 National French Fries Day isn't just about the starchy potato side. It's also about fry-shaped favorites, like Burger King's legendary Chicken Fries. Royal Perks members can get the menu item for free to celebrate the holiday.
On Wednesday, July 13, you can snag free Chicken Fries with every $3 purchase. The promotion is available in the BK app, BK.com, and at all participating locations, but for pickup only. The deal is not valid with delivery.
The Chicken Fries feature real white meat chicken coated in a light crispy breading seasoned with savory spices and herbs.
What is National French Fries Day without actual fries, too, though? Luckily, Burger King has also covered you on that front, and not just on Wednesday. In April, the chain introduced its Frequent Fry-ers program, which gets Royalty Perks members a free small, medium, or large fry with any purchase.
"Since announcing the rollout of our loyalty program last September, Royal Perks is now available in nearly every Burger King restaurant nationwide," President of Burger King North America Tom Curtis said. "Enhancing the digital guest experience continues to be a major focus for our brand, and we're confident this latest offer will attract even more loyal fans while rewarding our existing members."
While you can only get free Chicken Fries on July 13, you've got the rest of the year to celebrate National French Fries Day with complimentary fries. And go with the large.