Burger King Finally Unveiled Its New & Improved Fried Chicken Sandwich
The royal burger chain promises it'll be worth the wait.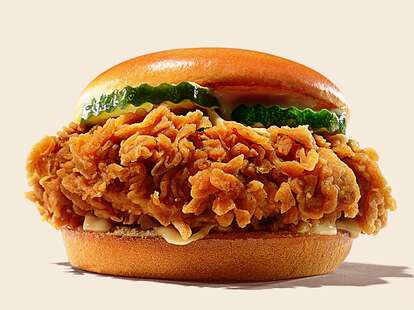 Courtesy of Burger King
Courtesy of Burger King
Burger King is late to the chicken sandwich wars. Like months and months late. While other major fast food chains—Wendy's, KFC, Church's Chicken, and most recently, McDonald's—all launched new and improved chicken sandwiches to better compete with that of Popeyes, Burger King has yet to throw its crown into the ring. But that's going to change.
On Wednesday, Burger King officially unveiled its all-new, much-anticipated Hand-Breaded Chicken Sandwich, promising chicken sandwich fans everywhere that "it's worth the wait." And wait we must. The company said the new sandwich won't roll out to restaurants until—get this—sometime "later this year." Better late than never, right?
But let's not be so hard on the King. After all, the chain makes a strong case for why it hasn't released a new chicken sandwich thus far: it doesn't want to half-ass it. Specifically, it doesn't want to introduce a new chicken sandwich that's only merely as good as the chicken sandwiches from its competitors. Burger King wants to do better than that.
"Since we aren't down to half a** the process, we plan to introduce our sandwich later this year," Ellie Doty, Burger King's chief marketing officer, said in a statement to Thrillist. "We're taking an intentional approach to test and refine the new hand breading procedure in restaurant."
Burger King said it started working on the sandwich as far back as 2019. In September of 2020, it started offering the sandwich as part of a test launch at a limited number of restaurants, so if you feel like you've already heard about it, that's probably why. We've seen reports of the sandwich making appearances here and there over the last few months.
Although Burger King wouldn't give us an exact timeline for the release, it did reveal what to expect when the new chicken sandwich finally arrives. You can get it two ways: original or spicy. Both versions of the sandwich are made with a thick cut of white meat chicken breast that's hand-breaded for maximum crunchy exterior and juicy interior, crispy deli pickles, a savory signature sauce, and a toasty potato bun. If you want, you can order it with lettuce and tomato on top. As for pricing, Doty said the company is still conducting several market tests to help determine how much it'll charge.
Other than the inclusion of a signature sauce, Burger King's Hand-Breaded Chicken Sandwich sounds like... a standard fast food chicken sandwich, which certainly underscores how hard it is to create one that stands out from the rest—let alone one that goes on to be a breakout hit. Then again, if this chicken sandwich tastes as good as it looks, then it'll certainly be worth waiting a few more months for it. Just look at that thing. Seriously, scroll back up.
Sign up here for our daily Thrillist email and subscribe here for our YouTube channel to get your fix of the best in food/drink/fun.