Burger King Is Making 3 New Meat-Less Burgers to Follow the Impossible Whopper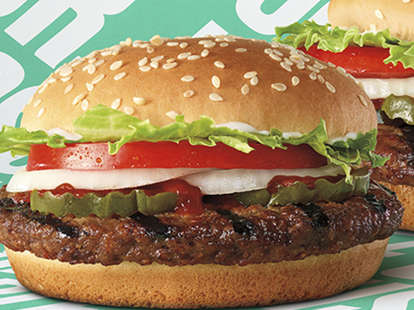 Courtesy of Burger King
Courtesy of Burger King
First came the Impossible Whopper, a shockingly meaty plant-based burger that hit Burger Kings nationwide earlier this year. The royal burger chain described the addition as "all Whopper, no beef. It's as juicy, craveable and delicious as the original Whopper." Fans agreed. The Impossible Whopper was one of Burger King's best product launches to date.
Now, that mighty plant-based Whopper wants to expand its family, the chain announced on Monday. Enter three new Impossible burgers coming to Burger King:
The Impossible Whopper Jr.: Like its larger predecessor, the Impossible Whopper Jr. has the same exact ingredients of the Impossible Whopper -- tomatoes, lettuce, mayo, ketchup, pickles, and raw onions -- just in a smaller package.
The Impossible Burger: Imagine the simplicity of Burger King's hamburger, complete with ketchup, mustard, and pickles on a sesame seed bun, but swap out the beef for an Impossible patty.
The Impossible Cheeseburger: Same as above, add cheese.
The three new Impossible burgers aren't available nationwide (yet), but will be tested at 180 restaurants in Milwaukee, Cedar Rapids, Augusta, Cincinnati, and Buffalo, a spokesperson for Burger King told Thrillist. Keep in mind that Burger King initially rolled out the Impossible Whopper in a few cities before its nationwide expansion, so this is just the first step toward that. If the burgers prove popular enough in the handful of markets, they'll likely hit menus in every state.
Burger King is also testing what it's dubbing the "Rebel Whopper" in 2,400 restaurants across Europe. Like the Impossible Whopper, the European version is plant-based and 100% beef free. But unlike the Impossible Whopper, the patty is made from The Vegetarian Butcher instead of by Impossible Foods. Impossible Foods, of course, is one of the biggest suppliers of plant-based burger patties for restaurants and fast food chains, along with competitor Beyond Meat. Both are surprisingly similar to the real deal, hence their growing popularity.
Plant-based meat is a global phenomenon and we're lucky to have three new versions of vegetarian Burger King burgers to devour. Our fingers are crossed for a swift nationwide expansion.
MORE: Who makes the absolute best plant-based burger in fast food? We found out.
Sign up here for our daily Thrillist email and subscribe here for our YouTube channel to get your fix of the best in food/drink/fun.
Kat Thompson is a staff writer at Thrillist. Follow her on Twitter @katthompsonn.