Burger King Took a Break From Fighting Wendy's to Make Fun of the President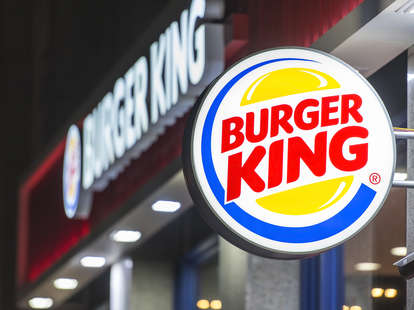 A sign featuring the traditional spelling of "burger."

| Shutterstock
A sign featuring the traditional spelling of "burger."

| Shutterstock
Unless you're living in some idyllic place without internet access (confusing that you're reading this, but whatever), you know that noted President of the United States Donald Trump recently hosted the winners of the NCAA National Championship for dinner. This was all normal enough, but then President Trump announced what he'd be serving: a cornucopia of fast food, including "many, many" fries.
Trump's love of fast food is well documented. But it took a new twist when he bragged about the unconventional feast in a tweet on Tuesday, which has since been deleted and replaced with a corrected version. The original read: "Great being with the National Champion Clemson Tigers last night at the White House. Because of the Shutdown I served them massive amounts of Fast Food (I paid), over 1000 hamberders etc. Within one hour, it was all gone. Great guys and big eaters!"
You will note that, traditionally, that is not how "hamburgers" is spelled.
The internet also noted this. Many a joke was made, and the internet internet-ed. But an internet-ing has never run its course until the brands get involved: Both surprisingly and appropriately, it was Burger King that stepped forward to playfully make fun of the president.
Burger King apologetically explained: "due to a large order placed yesterday, we're all out of hamberders. just serving hamburgers today." Whatever your political stance and broader thoughts on brands acting like people, you will agree that this is an objectively good joke.
It even gave rise to some fan art.
Sign up here for our daily Thrillist email and subscribe here for our YouTube channel to get your fix of the best in food/drink/fun.