Burger King Is Rolling Out a New Loyalty Program with Tons of Free Food Perks
Rewards will be available nationwide later this year.
Courtesy of Burger King
Courtesy of Burger King
Burger King's recent rebrand isn't purely aesthetic. The royal burger chain is working on an entirely new rewards program to fit the new look, and by the end of the year, it will be available to customers nationwide.
The loyalty program is called Royal Perks—a play on the restaurant's monarch theme. Whereas Starbucks Rewards allows customers to collect stars, Royal Perks will allow customers to collect crowns. Every dollar spent earns 10 crowns, which can be exchanged for free items across the menu. Notably, Burger King claims the free food perks aren't limited to select menu items, unlike competing chains such as Wendy's and Taco Bell.
On top of that, members will get access to daily perks like free size upgrades on drinks, fries, or hash browns. Delivery orders will still qualify for crowns and you'll earn double crowns with every order made during your birthday month, according to a press release from the chain.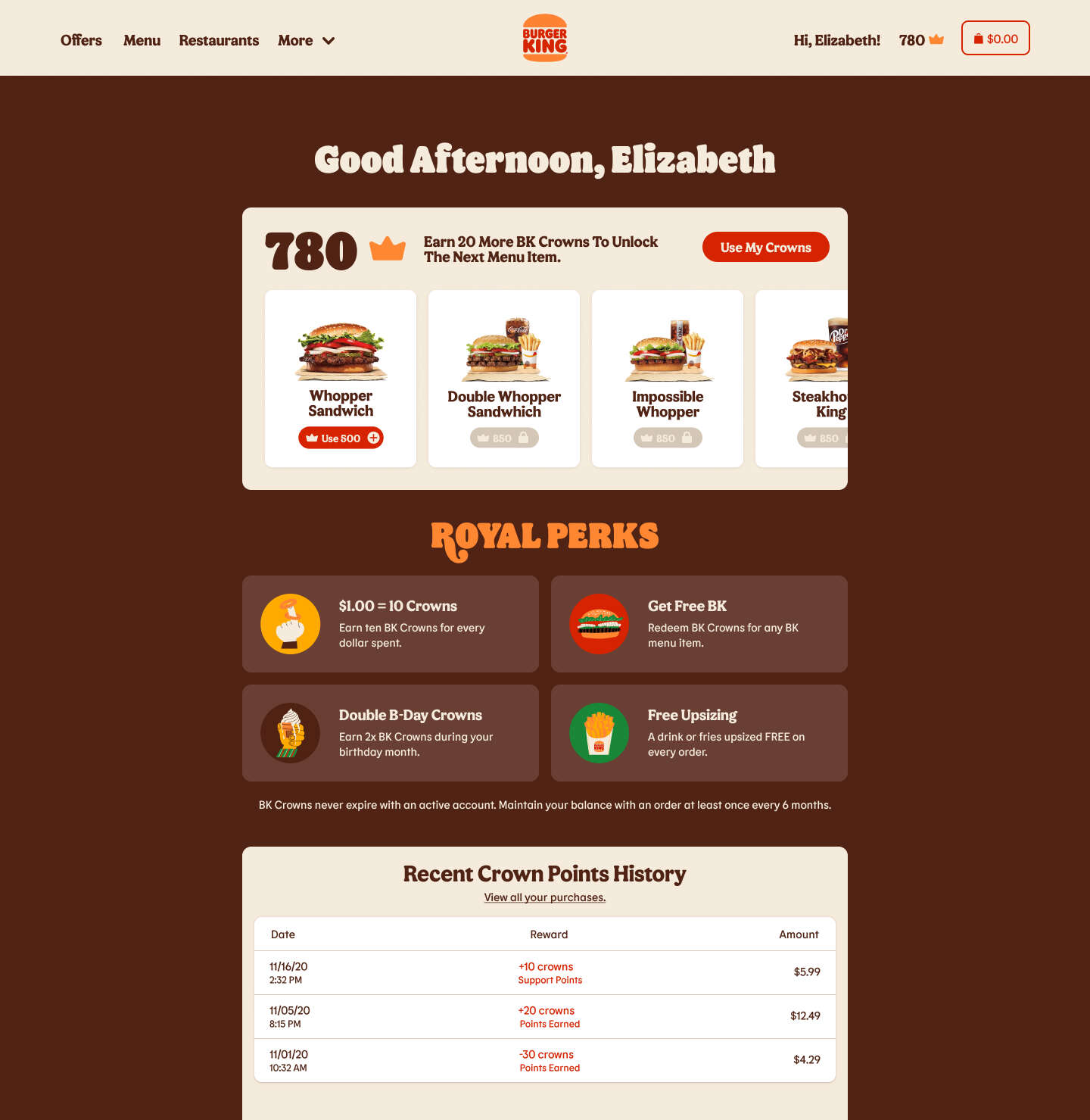 "It feels like we've just accepted what brands have told us is possible with loyalty programs over the years, so as we started working on Royal Perks, it was easy, let's do what the others don't," said Ellie Doty, chief marketing officer of Burger King North America, in the release. "To make sure we get it right, we're testing, learning, and solving this year."
Currently, Royal Perks is only available in select locations in Miami, Los Angeles, New York City, Long Island, and New Jersey. It can be accessed in the BK app or on BK.com.
Sign up here for our daily Thrillist email and subscribe here for our YouTube channel to get your fix of the best in food/drink/fun.