Have you ever walked into a Burger King and suddenly wished you could strip down to nothing but a towel and sit in a sauna while eating a Whopper? Yeah... neither have we. But it turns out that's exactly what you can do at a bizarre Burger King location that appears to be more of a spa than a restaurant.
As explained in a report by Metro, the so-called Burger King spa is located along the Mannerheimintie in Helsinki, Finland. While your local Burger King might have a drive-thru or even a crusty old play area with a ball pit, this so-called Burger King spa features saunas, media lounges, a shower room, locker rooms, and of course, Whoppers. In other words, you'll be able to sit, relax, and work up a Whopper of a sweat all while enjoying at Whopper. That is, if you're into that kind of thing. 
Recommended Video
Here's Your First Look at Disney's Star Wars Land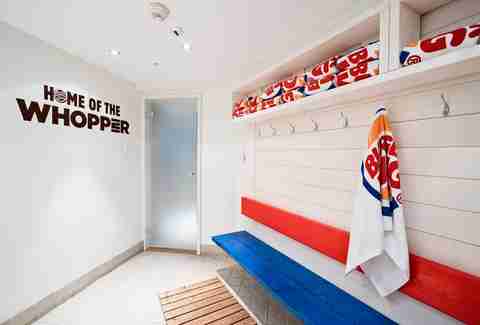 One of the saunas sits 15 people and is apparently the ideal venue for birthday parties, work retreats, and other social gatherings, according to a translation of the spa's website, while another sauna that features a 48" flatscreen TV sits 10 people. Additionally, the media lounges boast 55″ TVs, Playstation 4s, and high quality audio systems.
But all of this steamy fast food tranquility will set you back way more than a meal off the value menu. In fact, three hours in the spa, which you have to book ahead of time online, will cost you €250 (approximately $284). Then again, you can probably snag a few of those fancy Burger King towels, too, because they're the epitome of class and luxury.
When reached by Thrillist via email on Thursday, a Burger King spokeswoman declined to provide any further details. But perhaps the less we know about this bizarre place, the better.
h/t First We Feast
Sign up here for our daily Thrillist email, and get your fix of the best in food/drink/fun.
Tony Merevick is Cities News Editor at Thrillist and is extremely curious about what this place smells like, although maybe he's better off never finding out. Send news tips to news@thrillist.com and follow him on Twitter @tonymerevick.