Burger King Is Bringing Back its Spicy Nuggets & You Can Get Them for $1
The chain is also offering free delivery from now through June.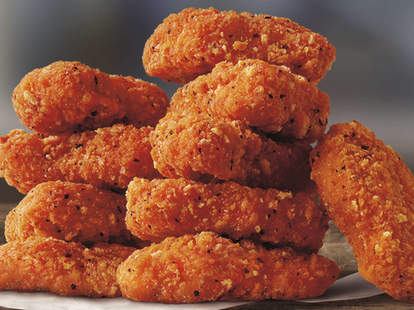 Anyone with tastebuds can attest to the fact that Burger King's spicy chicken nuggets are next-level, but there's something to that "distance makes the heart grow fonder" saying that's about to make the fast food favorite's return to menus that much sweeter. 
Burger King's fiery home-style breaded nugs are coming back and that's not even the kicker. Not only can you finally satiate that incessant craving, you can do so without spending more than a dollar. BK is reintroducing its 8-piece spicy chicken nuggets for $1 beginning Thursday, May 14. 
To keep the savings train rolling, the fast food burger joint is also giving us free delivery between May 25 through June 30, 2020 when you spend $20 or more on the Burger King mobile app. Think of it as an incentive to stay home.
In March, Burger King temporarily shut down dining rooms in response to the COVID-19 outbreak and has since updated procedures to assure customer safety. Delivery, drive-thru, and curbside pickup remain available for anyone with a hankering for those spicy nuggs.
"We are proud to say we have best-in-class cleaning procedures in place in our restaurants worldwide. We have handwashing, sanitization and cleaning rules that make sense," president Christopher Finazzo said in a statement on the BK website. "We wipe down pin-pads and door handles. We disinfect tables, chairs and all the surfaces in our restaurants.In light of COVID-19, we have increased the frequency of these cleanings, which now occur multiple times every hour at each of our restaurants." 
Sign up here for our daily Thrillist email and subscribe here for our YouTube channel to get your fix of the best in food/drink/fun.
Megan Schaltegger is a staff writer at Thrillist.