Burger King Will Give You a Free Whopper if You Have T-Mobile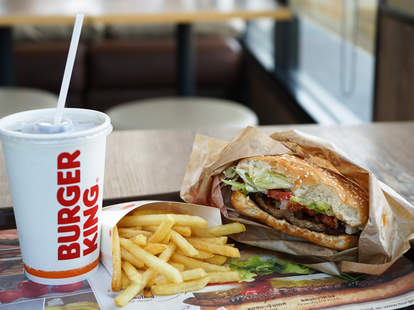 Poor T-Mobile is a background character in society's carrier movie series. Verizon gets to be Harry Potter, AT&T is the sexy Slytherin bully, and Sprint is in Hufflepuff because of its cutesy and nonthreatening nature. But T-Mobile... T-Mobile is Ravenclaw, the nearly-faceless house, left largely out of the cinematic spotlight that is media's internet discourse...
Until now, because anyone with T-Mobile can get a free Whopper at Burger King. 
Avada Kedavra, Verizon -- T-Mobile is changing the carrier game. On Tuesday, December 31, T-Mobile customers can get a free Whopper at Burger King locations across the country, according to Tmo News, as well as three weeks of meals from EveryPlate for $2.49 each. ICYMI, EveryPlate is just like Blue Apron in that it's a meal kit service that ships meal-specific ingredients to your door. One grand prize winner will also receive $2,020, plus $865 to cover taxes or other expenses.
All of these deals are part of the carrier's long-running "T-Mobile Tuesday" perk, which you can benefit from by downloading the app, available for both iOS and Android.
So, go on and head to your local BK, mosey on into that metaphorical grand dining hall, shove aside your classmates' pumpkin pasties, treacle tarts, and steak-and-kidney pies, and smack down that beefy carrier perk like its the golden freakin' snitch, baby.
Sign up here for our daily Thrillist email and subscribe here for our YouTube channel to get your fix of the best in food/drink/fun.