Burglar Breaks Into Escape Room, Calls 911 on Himself When He Can't Escape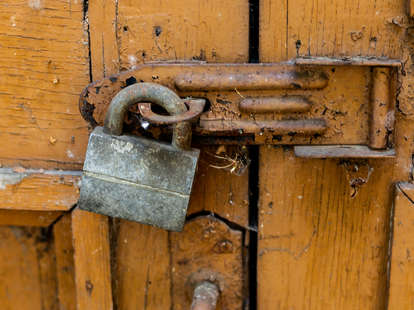 Shutterstock
Shutterstock
The most important part of a successful burglary is being able to get in and out of wherever it is you're breaking into without incident. The second most important part is to ensure you're not breaking into a place that's literally designed to keep you trapped inside. One ill-fated burglar learned both of these things the hard way earlier this week, when he broke into an escape room in Canada from which he couldn't escape, and ended up calling the cops... on himself.
On Sunday night, 40-year-old Rye Daniel Wardlaw allegedly attempted to break into the back door of Vancouver's Northwest Escape Experience, an "escape room" attraction where groups of people are tasked with solving puzzles under a time crunch in order to figure out how to get out of a locked room. He didn't manage to bust into the business directly, but he did find his way into an electrical room for the strip mall where it's located. While in there, he punched a hole through a wall which led into the Northwest Escape Experience's bathroom, and eventually found his way into the unlocked front door of a physical therapy business next door.
That's when things got weird.
Wardlaw allegedly stopped into the physical therapy spot and ate a burrito, then went back to the Escape Experience, where he inadvertently knocked over a couple large storage lockers, obstructing one of its doors. Having busted the back door earlier attempting to break in, Wardlaw found himself trapped, and freaked out. He found a cell phone on a table, and used it to call 911 a total of four times. However, by the time the cops showed up to "rescue" him, he'd managed to find his way out. But the authorities spotted him behind the building, and arrested him on suspicion of burglary.
As for why he broke into the Escape Experience in the first place, Wardlaw says he is homeless and was just seeking shelter. According to the Clark County Sheriff's Office, he also reportedly told authorities that he fled to the escape room because his own home was being robbed. In any case, he caused quite a bit of damage to the business, and is currently being held on three counts of second-degree burglary. For her part, the escape room's owner, Tamara Bertrand, at least found some humor in the whole debacle.
"We now have a zero percent escape rate with criminals," she joked in an interview with The Columbian newspaper.
h/tNewsweek
Sign up here for our daily Thrillist email and subscribe here for our YouTube channel to get your fix of the best in food/drink/fun.