Busch Will Give You a Free Year of Beer for Going Out in the Woods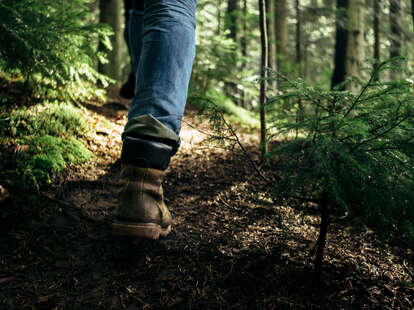 shutterstock
shutterstock
The woods are lovely, dark, and deep, and beer is lovely, light, and cheap, so we recommend getting more of both in your life. Conveniently, Busch is offering you a chance to get a bunch of both at once.
Busch will be giving out a free full year's worth of crispy cold ones to one lucky winner. And becoming that winner mostly involves hanging out in the woods. The already-affordable beer company will place special medallions on 10 trees in forests that range from New York to Alaska and release clues to the tree locations on social media starting on September 18. The first person to find one of the markers will receive a full year of beer. More details and an official page will be up on Busch.com starting on September 13.
The contest is part of Busch's push to support the National Forest Foundation, which works to protect America's 193 million acres of public forests and grasslands. Busch will also be donating 1 cent of every sale (up to $175,000) of special Outdoors Busch and Busch Light cases to the National Forest Foundation.
And while Busch acknowledges that protecting public forests is an inherently nice thing, it also points out that the NFF "contributes to high-quality beer by protecting sources of fresh, clean water -- a crucial ingredient in creating the refreshing flavor of Busch Beer."
Which again, the more of both beer and forests the better.
h/tMediaPost, The Takeout
Sign up here for our daily Thrillist email and subscribe here for our YouTube channel to get your fix of the best in food/drink/fun.