Butterfinger Teases Possible New Candy Bar-Flavored Peanut Butter
How is this not already a thing?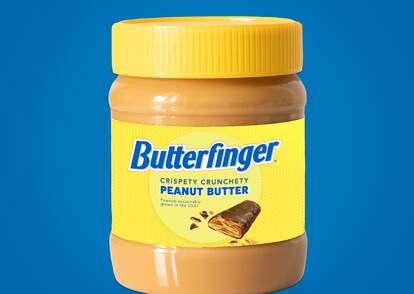 National Peanut Butter Day came and went as it does every other year, but one brand got itself a little buzz sure to echo long past National Rotisserie Chicken Day--and that isn't until June so we're talking about a long time here.
Ferrero, the company behind Butterfinger candy bars, posted a photo mock-up depicting a jar of "crispety crunchety" peanut butter on Instagram, along with the caption "Just kidding . . . Unless?" and a coyly asterisked "maybe sometime in the future."
Fans responded enthusiastically, as one might expect from anyone who follows @butterfinger on social media. Aside from a sea of affirmative emoji, comments included "YESSSS," [sic] "Yummy!," and "We need this."
Alas, the need will remain unfulfilled for now. "At this time, there is no set plan or date for rolling out a peanut butter Butterfinger product," A Ferrero rep told Thrillist when reached for comment.
Sign up here for our daily Thrillist email and subscribe here for our YouTube channel to get your fix of the best in food/drink/fun.