The 10 Cheapest Cities to Buy a Beach House in the US
There's something romantic about the idea of owning a beach house. It connotes a feeling of luxury, of reaching an ultimate relaxation goal. But it also sounds real damn expensive, and it is in most places.
If this is the kind of dream you're running down, thinking it might never come to you, Realtor.com's new study might help you work out the mystery of how you can get into your own beach palace. The site collected data on beach home prices across the United States. It used those median prices to call out the 10 cheapest cities for beach home purchases.
Realtor.com selected two cities per state -- in order to inject the list with "geographic diversity" -- with a minimum of at least 30 miles in between the cities in each state. Every city has a population between 1,000 and 100,000 and at least 30 homes on the market. So, it's not the most scientific study, but it does provide an interesting look across the country.
"Some of our top picks won't ring a bell, but that's a good thing," the site writes, "they're less likely to be clogged with tourists, hoity-toity neighbors, and overpriced artisanal ice cream cones. In other words, you're practically guaranteed a peaceful seaside getaway. Possibly one with lots of upside potential on the resale side."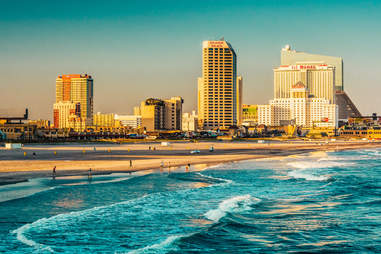 Atlantic City, New Jersey

| Shutterstock
Here are the 10 cheapest cities, ranked by median home price.
1. Atlantic City, New Jersey ($117,500)
2. Keansburg, New Jersey ($125,000)
3. Gulfport, Mississippi ($154,700)
4. Deerfield Beach, Florida ($157,900)
5. La Porte, Texas ($193,600)
6. Myrtle Beach, South Carolina ($199,000)
7. Port Lavaca, Texas ($199,700)
8. Daytona Beach, Florida ($199,900)
9. Ocean Shores, Washington ($232,500)
10. North Bend, Oregon ($239,000)
Some of those cities might surprise, but the full report details why familiar beach towns like Daytona Beach (homes prices didn't recover after the 2007 financial crisis) and Myrtle Beach (crime) appear on this side of the list.
Of course, the company also gave a look at homes at the other end of the spectrum as well.
1. Malibu, California ($3.95 million)
2. Water Mill, New York ($3.75 million)
3. Manhattan Beach, California ($3.1 million)
4. Nantucket, Massachusetts ($3 million
5. Sullivan's Island, South Carolina ($2.45 million)
6. Haleiwa, Hawaii ($1.88 million)
7. Key Biscayne, Florida ($1.7 million)
8. Vineyard Haven, Massachusetts ($1.5 million)
9. Avalon, New Jersey ($1.46 million)
10. Anna Maria, Florida ($1.4 million)
h/t Money Talks News
Sign up here for our daily Thrillist email, and get your fix of the best in food/drink/fun.
Dustin Nelson is a News Writer with Thrillist. He believes every home is a beach home with a bag of sand and a kiddie pool. Follow him @dlukenelson.