Oreo Is Officially Launching Cadbury-Like Creme Eggs in the US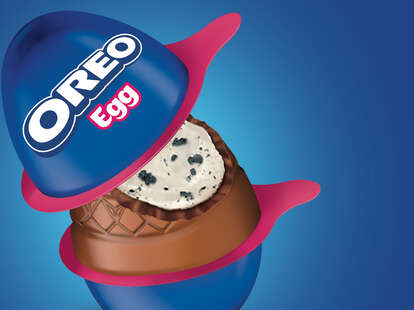 Editor's Note: This story has been corrected to reflect new information from Oreo and to include a new image provided by a spokesperson.
When news of Cadbury's Oreo-flavored Creme Eggs quickly spread last week, it sadly came with a big catch: the candy isn't available in the United States. Thankfully, it looks like that's about to change. Well, sort of, at least.
A spokesperson for Oreo said Wednesday the classic sandwich cookie brand will launch what's called the Oreo Egg, a creme-filled candy with cookie pieces, in the US sometime in mid-February. However, the company emphasized the cookie-candy hybrid will not be made with Cadbury chocolate and is not a Cadbury product, which contradicts several reports earlier this week indicating the same Cadbury Oreo Creme Eggs seen in the UK and Canada will be made available stateside.
Those eggs will sadly remain out of our reach, which makes all these social media photos from junk food connoisseurs in the UK and Canada even more more painful:
Jealous yet? Well, if the new Oreo Eggs coming to the US are anything like the Oreo chocolate bars debuting this year, then they'll likely be worth the wait.
Sign up here for our daily Thrillist email, and get your fix of the best in food/drink/fun.
Tony Merevick is Cities News Editor at Thrillist and is kinda of surprised it took this long for the Oreo-filled candy wave to hit. Send news tips to news@thrillist.com and follow him on Twitter @tonymerevick.