CPK Is Giving Away Free Hawaiian Pizzas and a Trip to Hawaii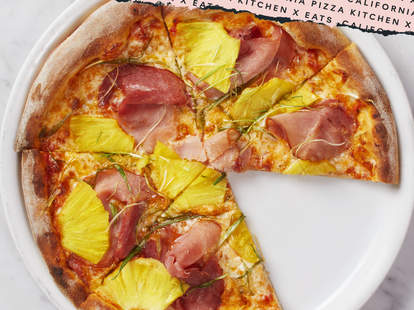 Edited - Courtesy of California Pizza Kitchen
I'm just going to come right out and say it: pineapple does belong on pizza. The sweet-yet-slightly-acidic fruit cuts through the heaviness of melty cheese and pairs well with any salty topping, like pepperoni or ham. If you believe a fruit jam or grapes belongs on a cheeseboard next to prosciutto, then you have to also recognize how something like pineapple can shine on pizza. This is a point all pineapple pizza naysayers must concede to.
And guess what? The California Pizza Kitchen backs me up. In fact, the chain believes so strongly in its version of a Hawaiian Pizza that it's giving away free Hawaiian Pizzas with every CPK Uber Eats order of $25 or more, using the code "PIZZALOHA." If you're having a family pizza night soon, it would behoove you to use this deal.
But that's not all -- the pizza purveyors are also giving away fun, vacation-themed items for those who use the promo code (while supplies last), as well as a free trip to Hawaii. Pineapple pizza is starting to sound even more appealing now, right?
The promotion runs from January 16 to January 19 at 11:55pm PST. If all goes well, you'll get pineapple-enhanced pizza and a free trip to Hawaii. And even if you don't win the trip to Hawaii, hey, you'll have pizza. That is a win itself.
Sign up here for our daily Thrillist email and subscribe here for our YouTube channel to get your fix of the best in food/drink/fun.
Kat Thompson is a staff writer at Thrillist. Follow her on Twitter @katthompsonn.