A Politician Already Wants to Ban Sales of Elon Musk's Flamethrowers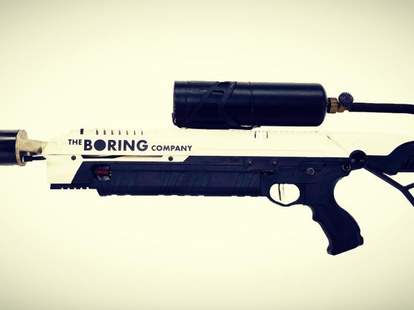 Elon Musk, famed brain of Tesla, Space X, and myriad other boundary-pushing enterprises, recently started peddling $500 flamethrowers as a marketing gimmick for his newish venture, The Boring Company. And in a sad day for freedom-lovers everywhere, a California politician wants to extend the obtrusive arm of government by banning the sale of these fire-spewing instruments. Why ever would he want to do that? 
When Democratic Assemblymen Miguel Santiago caught wind of Musk's flamethrowers, which have already amassed Boring Company upwards of $5 million in sales revenue, he shuddered. 
In a statement released on Twitter, the politician was aghast. At first blush, he thought it was a tongue-in-cheek marketing ploy, not a gateway to a legal marketplace for fire-cannons hawked by a corporate CEO with hordes of acolytes. That would just be bizarre.
If this is real, I'm outraged and you should be too. If this is a joke, then it's a terribly insensitive one given that we're coming off of the worst wildfire season in history. Either way: NOT FUNNY. NOT GONNA HAPPEN. pic.twitter.com/82n00um9Bf

— Miguel Santiago (@SantiagoAD53) January 29, 2018
While the statement immediately noted the Assemblyman's intention to "introduce legislation to block sale of this invention to the public," it went on to briefly laud Musk before scolding him and his apparent recklessness.
Musk's Boring Company, an infrastructure and tunnel constructions startup with plans to dig a network of tunnels underneath Los Angeles to alleviate the city's snarling traffic issues, has its first contract to complete a two-mile test tunnel outside of Space X's LA headquarters.
Although Santiago noted that the company's ambition is commendable -- he was sitting in traffic when he first heard the news, after all -- the sale of flamethrowers "feels like a complete slap in the face" to him. In his tweet, Santiago referenced "the worst wildfire season in history," which managed to transpire, shockingly, without any Musk-approved flamethrowers on the market. Seriously, much of Southern California looked like the worst chapters from Dante's Inferno late last year. 
Musk is known for using his Twitter account to cause a ruckus by trolling his legions of followers, but a Boring Company spokesperson confirmed to the San Jose Mercury News that the products aren't a gag, and orders will start shipping in the Spring. 
California and Maryland, strangely, are the only two states that impose an outright ban on flamethrowers, according to TheWashington Post. Musk's flamethrowers might skirt the legal hurdle though, because they don't emit flammable liquid when spewing their roaring bursts of flame. 
Musk has assured Twitter that his flamethrowers are less dangerous than a steak knife. They make the cut as far as Alcohol Tobacco and Fire is concerned, because they emit a 10-foot flame, which is the legal limit imposed by the agency. 
But if you're looking to get your hands on one, you better act quickly. The initial 20,000 quantity Musk ordered has already shrunk to a dwindling 5,000 flamethrowers. The Tesla CEO tweeted a running sales tally on Tuesday, and they appear to be flying off the shelves:
We live in a remarkably strange time.
[h/t Mashable]
Sign up here for our daily Thrillist email and subscribe here for our YouTube channel to get your fix of the best in food/drink/fun.
 
Sam Blum is a News Staff Writer for Thrillist. He's also a martial arts and music nerd who appreciates a fine sandwich and cute dogs. Find his clips in The Guardian, Rolling Stone, The A.V. Club and Esquire. He's on Twitter @Blumnessmonster.