McDonald's New Camp Promotion Gets You Free Food for the Entire Month of July
Plus, there's exclusive merch and a performance by Kid Cudi.
Photo by Gargantiopa/Shutterstock
The highlight of my summer camp experience was the snack cantina, where both Cheetos and friendship bracelets were sold, so it should be no surprise that McDonald's own camp-themed promotion is right up my alley. For 27 straight days, the golden-arched fast food joint is releasing an entire lineup of food deals, menu hacks, and merch collaborations.
Camp McDonald's officially kicks off July 5 with an exclusive drop (spend $1, and you'll score the details). Through July 31, you'll get free or cheap food almost daily, including discounted menu favorites like the Big Mac, Chicken McNuggets, and World Famous Fries.
McDonald's is also revealing fan-favorite menu hacks throughout the virtual series. Give the Apple Pie McFlurry or McFlurry Sandwich a try. Thank us (and Mickey D's) later.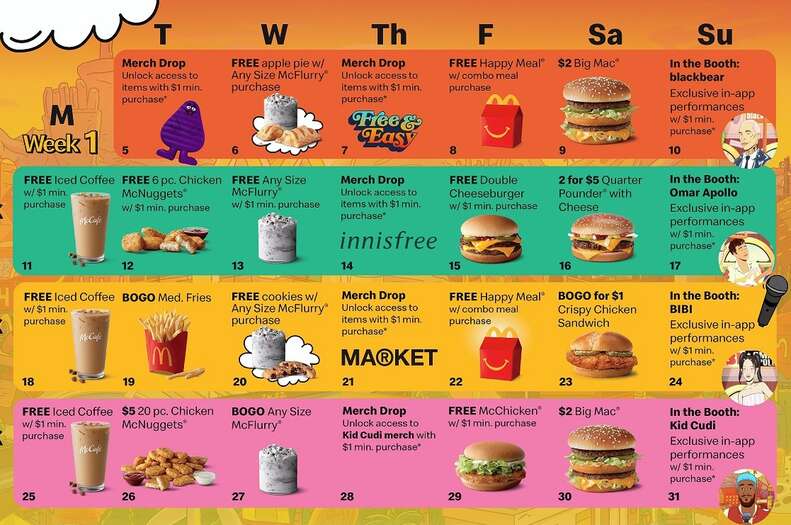 Not only does the campaign include exclusive virtual concerts from blackbear, Omar Apollo, BIBI, and headliner Kid Cudi, but you can also expect merch collabs with some of Hollywood's biggest names. The first week alone, you can get a Retro Grimace Pool Float and "Don't Trip" Camp McDonald's Collection courtesy of Free & Easy. Ma®ket, innisfree, and Kid Cudi will also be dropping McDonald's merch this month.
The app directly lets customers access the entire Camp McDonald's experience, including food deals and virtual concerts.