Campers Burning Poop in a Hole Accidentally Start a 500-Acre Fire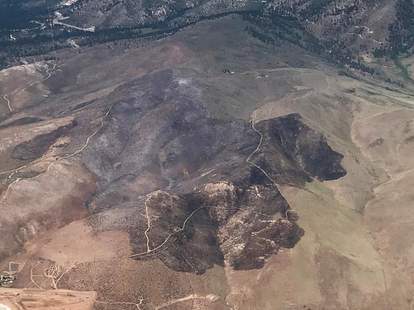 Courtesy Humboldt Toiyabe National Forest
It's a classic camping scene: men sitting around in tribal fashion, burning poop in a hole. Two men in Reno, Nevada stand accused of partaking in this very same ritual, which unfortunately sparked a massive wildfire in Voltaire Canyon that burned though 500-acres earlier this week. Authorities from the Carson City Sheriff's office have detained the duo in connection with the fire.
According to Carson City Sheriff Ken Furlong, the blaze was inadvertently sparked by the burning poop hole -- and the ill-advised decision proved to have devastating consequences. The fire raged from Tuesday evening until Wednesday morning, the Reno Gazette Journalreports, prompting voluntary evacuations from nearby residents. 
"We really don't believe that there is significant fuel to get to those houses," Furlong told the paper. "But that's a challenge right now because it's night time and it's become pretty large."
The fire grew to roughly 500-acres, and to within three-quarters of a mile of Casino Fandago, a popular hotel and casino in Carson City. As of Wednesday night, it was 30% contained, Carson City Fire Chief Sean Slamon toldUSA Today. 
"We had pretty active fire last night, which is unusual for this time of year," Slamon said. "It was all ground firefighting, so that was a big challenge initially."
Lest this be a reminder that poop is flammable. 
h/t Gizmodo
Sign up here for our daily Thrillist email and subscribe here for our YouTube channel to get your fix of the best in food/drink/fun.
 
Sam Blum is a News Staff Writer for Thrillist. He's also a martial arts and music nerd who appreciates a fine sandwich and cute dogs. Find his clips in The Guardian, Rolling Stone, The A.V. Club and Esquire. He's on Twitter @Blumnessmonster.