This Woman Is Giving Away Her $1.7M Mansion for Just $25
The prospect of home ownership has never seemed more out of reach for a lot of young people, considering both the relatively modest (and stagnant) incomes average millennials are making and the insane cost of real estate in even second-tier cities. So what are you supposed to do if you want to secure yourself a piece of property before you're old and gray? Well, you have at least one potential new option now, thanks to an intrepid homeowner in Canada, who's offering to give away her beautiful and sprawling $1.7 million lakeside digs to the right person for a cool $25.
After failing to find a buyer for her gorgeous dream home in rural Alberta, Canada, owner Alla Wagner decided to mix things up and find a way to ensure the place would at least go to someone who'll most appreciate it, even if they can't even remotely afford it. So, she devised a contest to essentially give it away to whoever submits the most convincing argument as to how living there would change their life. The catch? You only have 350 words to explain yourself, and it costs $25 to submit the entry.
As for the house itself, it's 5,000 square-feet and sits on a lake roughly 40 miles south of Calgary, with sweeping views of the surrounding mountains and countryside. Inside, there are three bedrooms, a chef's kitchen, wine cellar, library, ornate wooden moldings, tons of windows, and a wraparound porch. It's valued at $1.7 million, and it's easy to understand why.
In a Facebook post announcing the contest, Wagner explained that she absolutely loves the place and that it's "a writer's or artist's paradise," but regretfully needs to offload it due to failing health that's restricted her to living on one floor.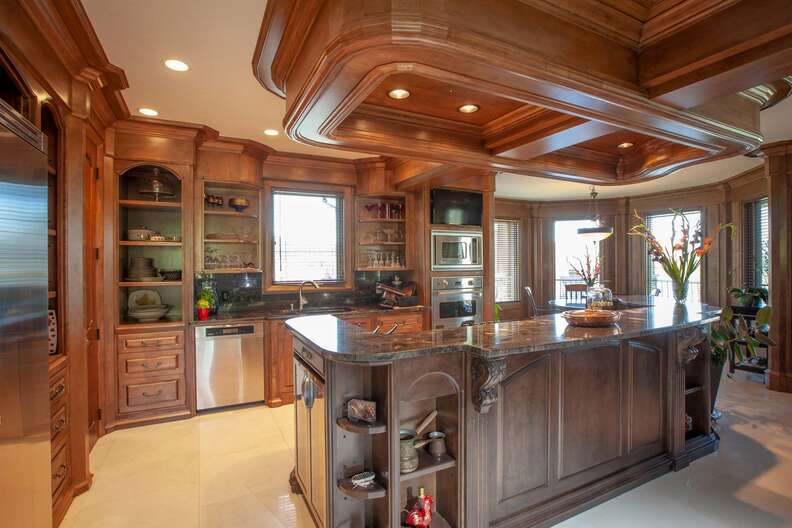 To enter the contest you simply need to submit the $25 fee and write a "story" no longer than 350 words that "skillfully and creatively convey[s] to [Wagner] and a panel of judges how this spectacular home would change or improve his/her and their family's' life."
According to Wagner's rules, the 500 most compelling entries will be voted on by a panel of judges to determine the winner. However, it's worth noting that the competition is dependent upon Wagner raising the $1.7 million via those $25 submission fees, which means she'll need to receive 68,000 letters for this to actually work out. The contest will last for three months, and possibly extend to six months if not enough letters/entry fees are received. If it's obvious she won't receive nearly enough to reach the $1.7 million, the contest will be canceled, and all entrants will have their fees refunded.
Of course, if you'd prefer more of a sure thing when it comes to finding a place to call your own, there's always that town in Italy hawking homes for just a buck.
h/t Travel + Leisure

Sign up here for our daily Thrillist email and subscribe here for our YouTube channel to get your fix of the best in food/drink/fun.