Cards Against Humanity Just Unleashed a Dad Joke Edition Hidden in Hilarious DVD Cases
Courtesy of Cards Against Humanity
The occasionally crude card game Cards Against Humanity is getting into the business of bad dad jokes. In honor of the upcoming day o' dads, Cards has announced a new Father's Day Pack loaded with 30 new cards you can add to your deck.
The expansion is packaged in a DVD case for a fake 90s action film with ridiculous computer-generated titles like Point Break Dawn Infinity, Red Fear: Massive Heat, Sniper Dad, Bloodoath: Remembrance, and Ocean Mission: Dark Tide. The cases are hilarious and look exactly like the Steven Segal DVDs on the spinning rack at your local gas station.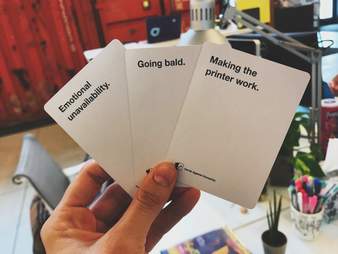 Courtesy of Cards Against Humanity
"If you haven't already gotten your dad a wallet or paperweight, this is the perfect gift," said Cards Against Humanity co-creator Eli Halpern in a statement. Like every statement from the company, it was a joke (remember, they spent $10,000 digging a "tremendous hole"), but it's also probably true for a lot of people.
If you desperately want more dad jokes than a Memorial Day barbecue, you can pick up the expansion pack for $6 at Daddy.CardsAgainstHumanity.com or you can find the packs at Target. 
Celebrate the man who was never there for you with 30 new cards about keeping the goddamn door closed while the A/C is on. What're you trying to do, cool off the neighborhood? https://t.co/VqfJTYKONA

— CardsAgainstHumanity (@CAH) June 5, 2018
Sign up here for our daily Thrillist email and subscribe here for our YouTube channel to get your fix of the best in food/drink/fun.

Dustin Nelson is a News Writer with Thrillist. He holds a Guinness World Record but has never met the fingernail lady. Follow him @dlukenelson.