Carlsberg Made the First Paper Beer Bottle, So You Can Drink Without Wrecking Our Planet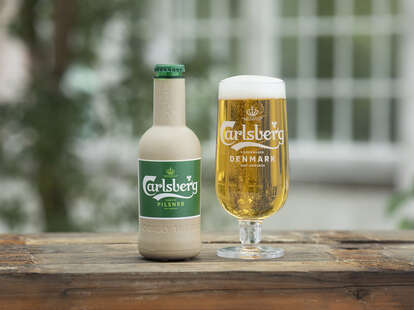 Carlsberg is giving us a great reason to double down on our beer drinking. The Denmark-based brewery has created the first-ever paper bottle, so you can throw 'em back without feeling like you're, you know, ruining our planet. Can we get a MF cheers to that?
On Friday, the company announced plans for a sustainably-sourced, 100 percent bio-based, and fully recyclable wood fibre bottle. And while they're still workshopping two separate models (more on that in a sec), there's a lot to unpack here. I've got questions! Namely, will it dissolve right before our eyes like those wretched straws? I love sea turtles as much as the next, but you know I'm right.
So here's the deal: both prototypes were made with an 'inner barrier' to avoid any disintegration. According to the press release, one features a thin and recyclable PET polymer film barrier while the other was crafted using a PEF barrier. Both will be tested and, as long as everything goes according to plan, go mainstream.
"We continue to innovate across all our packaging formats, and we are pleased with the progress we've made on the Green Fibre Bottle so far," vice president of group development at Carlsberg Group, Myriam Shingleton, said in the statement. "While we are not completely there yet, the two prototypes are an important step towards realising our ultimate ambition of bringing this breakthrough to market. Innovation takes time and we will continue to collaborate with leading experts in order to overcome remaining technical challenges, just as we did with our plastic-reducing Snap Pack."
The brand's push for eco-friendlier bottles isn't new. They began work on the paper models back in 2015 -- thanks to a little help from packaging solutions firm EcoXpac and Danish Technical University researchers. But they're also not the only ones moving towards a more sustainable business plan. Absolut, L'Oréal, Unilever, and more are part of Paboco, a "paper bottle community."
"Partnerships such as these, ones that are united by a desire to create sustainable innovations, are the best way to bring about real change," Shingleton added.
Sign up here for our daily Thrillist email and subscribe here for our YouTube channel to get your fix of the best in food/drink/fun.
Megan Schaltegger is a staff writer at Thrillist. Follow her @MegSchaltegger.