Man Hospitalized With 'Thunderclap Headaches' After Eating Carolina Reaper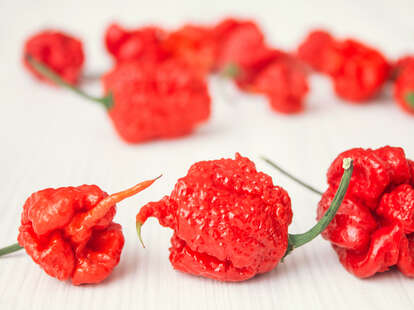 One wouldn't normally associate pepper eating contests with the competitive sports that can land you in an emergency room with excruciating headaches and possible brain trauma. But this terrible situation befell one unlucky guy, according a study published the medical journal BMJ on Monday, after he ate a Carolina Reaper pepper while trying to achieve spicy glory.
After scarfing the pepper, the unidentified 34-year-old immediately started dry heaving. Shortly afterward, extreme neck and head pain ensued and lasted for days. But it was no ordinary headache, or even a migraine. The man had developed thunderclap headaches, which are characterized by extreme bursts of pain that often strike out of nowhere and peak within 60 seconds. The pain was so severe that he checked in to a local emergency room for treatment. According to report, the man avoided many of the main symptoms associated with thunderclap headaches, and was treated without "focal tingling sensation or weakness, slurred speech, or transient loss of vision."
Scans didn't indicate any major neurological issues or bleeding in the brain, but rather that the man developed reversible cerebral vasoconstriction syndrome (RCVS), which is a narrowing of the brain's arteries. RCVS is caused by a tightening of the brain's blood vessels, which often results in agonizing thunderclap headaches. Although most patients treated for RCVS recover, it can result in permanent brain damage, according to the Cleveland Clinic.
This is the first incident of a pepper causing RCVS, which is more closely triggered by antidepressants and cocaine use. The Carolina Reaper won the title of world's hottest chili from the Guinness Book of World Records in 2013, although it was recently outmatched by a newcomer called Pepper X. Both chilis were developed by the same man, Smokin' Ed Currie of Rock Hill, South Carolina.
Doctors concluded that the man's headache could have been caused by the pepper, making him the Carolina Reaper pepper's first reported thunderclap headache victim. There have been rare instances in which cayenne pepper has been linked to heart attacks and coronary vasospasm -- a narrowing of the blood vessels in the heart. As the report states: "Given the development of symptoms immediately after exposure to a known vasoactive substance, it is plausible that our patient had RCVS secondary to the 'Carolina Reaper.'"
As is typical with RCVS, the man's headaches eventually went away. Scans taken five weeks later show that his brain's arteries have resumed their normal size.
We imagine he'll likely take a break from spicy foods for a while.
Sign up here for our daily Thrillist email and subscribe here for our YouTube channel to get your fix of the best in food/drink/fun.
 
Sam Blum is a News Staff Writer for Thrillist. He's also a martial arts and music nerd who appreciates a fine sandwich and cute dogs. Find his clips in The Guardian, Rolling Stone, The A.V. Club and Esquire. He's on Twitter @Blumnessmonster.