Starbucks Has a Fancy New Espresso Drink Called the 'Cascara Latte'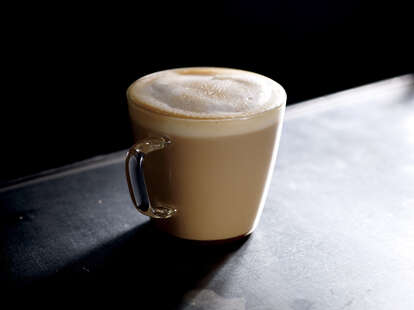 Sure, you might go to Starbucks for a quick morning coffee, a dessert-like Frappuccino, or seasonal drinks like the Peppermint Mocha and Pumpkin Spice Latte. But over the last few years, the green-aproned caffeine overlords at the company have steadily introduced premium "coffee-forward" drinks like the Flat White, Latte Macchiato, and Cold Brew. Now, it's adding another: the Cascara Latte.
Starbucks announced the fancy beverage at its biennial investors conference in New York on Wednesday along with several other new drinks, food items, and other big moves as part of its five-year plan for global growth -- aka taking over the caffeinated world. The drink was inspired by barista creations at the company's massive Roastery in Seattle and will land at Starbucks locations nationwide for a limited time in early January, although there's no specific release date yet.
So, uh, what the hell is a cascara? A Starbucks spokesperson said the word literally translates to "husk" or "shell" in Spanish and refers to the outer skin of the coffee cherry fruit that surrounds a coffee bean. With that said, the Cascara Latte is made with the fruit of the coffee cherry and adds subtle flavors of dark brown sugar and maple to Starbucks' classic espresso. Think a Flat White or Latte Macchiato, but with a slight sweetness. The espresso flavor is the star of the show.
Along with the Cascara Latte, Starbucks said it's bringing back another drink originally created by Roastery baristas, the Smoked Butterscotch Latte, which it introduced nationwide last February. At the time, the coffee giant said the drink is made with espresso, steamed milk, and smoked butterscotch sauce that's topped with a sprinkling of butterscotch topping, so you can count out it being way sweeter than a Cascara Latte.
Sounds like all those Starbucks gift cards you'll inevitably get over the holidays will come in handy.
Sign up here for our daily Thrillist email, and get your fix of the best in food/drink/fun.
Tony Merevick is Cities News Editor at Thrillist and is intrigued. Send news tips to news@thrillist.com and follow him on Twitter @tonymerevick.