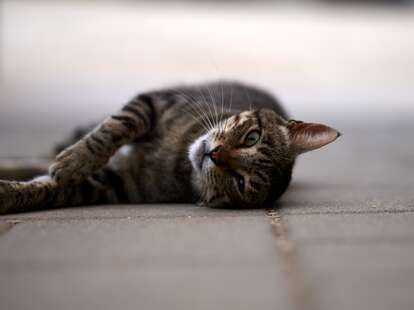 Photo by nadia_if/Shutterstock
Pet Brands Products and Aldi grocery stores have recalled two products for pets. Both Pure Being Cat Advent Calendars and Pure Being Dog Advent Calendars were recalled by the companies in December. The Food & Drug Administration (FDA), however, just shared the recalls on January 4, bringing the issue to a broader audience.
The recall was launched because the treats in the calendar present a potential choking hazard for pets. Since it's an advent calendar, many pet owners may be through the box already. Though, that may not be the case for all pet owners. There are no specific lot codes or "best by" dates to look for. All versions of the boxes are part of the recall.
The calendars were sold primarily at Aldi locations. Though, Google Search shows that they may have, at one time, also been available through Amazon.
In a statement issued with the recall, Aldi says it "takes the safety and integrity of the products it sells seriously. If customers have product(s) affected by this voluntary recall, they should discard it immediately or return it to their local store for a full refund." The FDA's recall page has images and more details, including contact information for Pet Brands Products if you have further questions.