Cat Exacts Revenge by Pushing Other Cat Into Pool, Feels No Remorse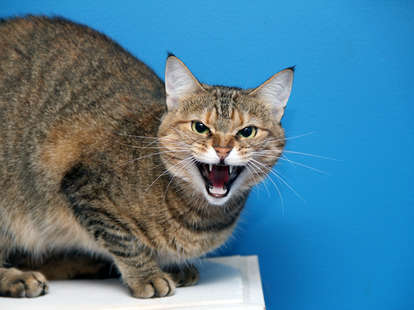 Cats can be vindictive. If you give them the wrong food, they won't look at you for days. If you don't clean their litter box, they will spray all over everything you've ever loved and feel no remorse. This behavior isn't only exhibited for humans; cats will plot their revenge on fellow cats, too. You don't get to be the king of the jungle for nothing.
So when makeup artist and beauty blogger Laura Lee shared on Twitter that her cat came inside completely soaked one evening, she knew she had to do some investigating -- and also suspected kitty sibling rivalry was involved. What she found on her security footage was something straight out of The Lion King.
Her cat, Boo, pushed his sister Peach into the pool and watched as she scrambled to get out -- before taking off. Peach was quick on his tail; mere seconds after the fateful push, both cats sprint out of the video frame.
Lee later followed up, confirming that the pool push was revenge for an earlier encounter where Peach bit her brother's leg for no apparent reason.
Lee has confirmed that despite being wet and grumpy, Peach is OK. If I were Boo, I would watch my back now.
Sign up here for our daily Thrillist email and subscribe here for our YouTube channel to get your fix of the best in food/drink/fun.
Kat Thompson is a staff writer at Thrillist. Follow her on Twitter @katthompsonn.