Porn Flakes Is the Lewd Cereal You Weren't Asking For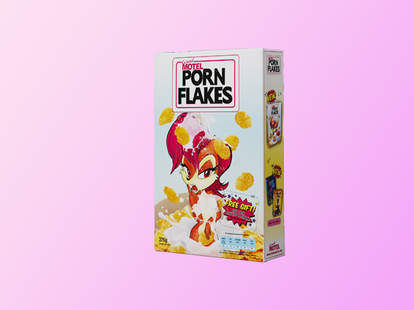 Cereal Motel | Dustin Nelson
Somewhere in the world, there's a demographic for whom breakfast and pornography are too separate. The London-based startup Cereal Motel is going to rectify this dire situation. The company officially launched Thursday, ready to fill your cereal bowl with, um, suggestive corn flakes.
The new brand is launching four lewd breakfast cereals named Porn Flakes (classic corn flakes), Vice Krispies (chocolate rice puffs), Booty Pops (chocolate balls), and Sugar Tits (frosted corn flakes). On the inside, the cereal looks exactly like it's decidedly unsexual counterparts in the cereal aisle. On the outside, the boxes are a step beyond suggestive, right down to the adult word searches on the back of the box.
If nothing else, Cereal Motel will have adults reliving the childhood joy associated with sugary cereals and toys buried deep inside.
Cereal Motel
Cereal Motel says they struggled in the early going. One manufacturer and two warehouses were unwilling to carry anything that made them feel so tingly before 10 a.m. "Our cereal is officially too hot to handle," the company said in a statement, "which is fine, as we accept that not everybody is as comfortable with their cereal fetish as we are."
Porn Flakes are available to order online in the U.K., U.S., and Europe. Though the brand has counterculture at its heart, it looks a little more like a novelty with each box retailing for a rather steep $12.
Sign up here for our daily Thrillist email, and get your fix of the best in food/drink/fun.
Dustin Nelson is a News Writer with Thrillist. He holds a Guinness World Record but has never met the fingernail lady. Follow him @dlukenelson.