Here Are the Best Chain Restaurants Open Christmas Day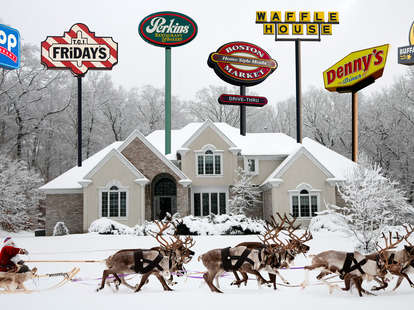 We've got you covered for everything Christmas -- it's our gift to you this year. Need a snack on the way to Grandma's? Here are the fast food chains open Christmas. And here's where to go for last minute gifts. We believe in you.
There are a lot of reasons you might need to track down an open restaurant on Christmas Day. The Bumpus dogs could run off with your dinner, you might not care about the day, or might have finally had it with Uncle Al's impeachment rants. No matter what the cause of your need for someone else to cook your meal, we've got you.
Not all restaurants are open on Christmas Day, but some definitely are. We've scoured the country to put together a list of the chain restaurants that will remain open for Christmas (there's also a separate list of fast food available on Christmas). Just be sure to be nice to your server and everyone else working at the restaurant. Whether they celebrate the holiday or not, no one wants to be working on a day that everyone else is getting off. Tip like you're Joe Pesci and some kid just said you're his favorite actor.
Best Chain Restaurants Open on Christmas Day
Applebee's
Select restaurants will be open on Christmas Day. They'll all be open on Christmas Eve, but you should call your local Applebee's to see if you're getting a $1 holiday margarita on Christmas Day.
Boston Market
Most locations are open on Christmas. Call the local BM ahead of time to be sure.
Buca di Beppo
The restaurant will be open and slinging food like any other day.
Buffalo Wild Wings
Some locations are going to be open. Check your local spot to get its holiday hours.
Del Frisco's Double Eagle Steakhouse
You've got a short window to get in, but all 16 locations will be open on Christmas from 3-8pm local time.
Denny's
You won't be left without your Grand Slam. Denny's locations will be open on Christmas.
Fleming's Prime Steakhouse & Wine Bar
Select locations will be open and serving an "indulgent" three-course holiday menu. The locations open on both Christmas Eve and Christmas Day include spots in Arizona, Colorado, Florida, Georgia, Indiana, Maryland, Missouri, North Carolina, Texas, and Virginia.
Fogo de Chão
From 11am to 9pm Fogo locations will be serving its meat-heavy meals on Christmas.
IHOP
Most locations will be open, but you should check with your local IHOP.
Junior's Restaurant
All locations will be open from 6:30am to 12am.
Kona Grill
You can get a Christmas meal at Kona from 11am to 10pm (local time) at locations everywhere.
Perkins
Many locations will be open. Check with your local restaurant.
Romano's Macaroni Grill
Stop by from 11am to 9pm on Christmas Day. You can even get in on a three-course meal that's special for the day.
Ruth's Chris Steak House
You can still get your steak fix on Christmas. Ruth's Chris will be open, but hours are going to vary by location.
Smith & Wollensky
Restaurants will be open on Christmas Day across the country.
STK Steakhouse
Locations will be open on Christmas Eve and Christmas Day.
Sullivan's Steakhouse
You'll be able to get a meal on Christmas at Sullivan's. Stop in from 11am-9pm.
TGI Friday's
Not all locations are open, but your local one might be. Give them a call to find out.
Tony Roma's
If you don't want to cook today, Tony Roma's will hook you up. Hours will vary by location.
Waffle House
The home of the waffle is never closed, really. Christmas is no exception.
Sign up here for our daily Thrillist email and subscribe here for our YouTube channel to get your fix of the best in food/drink/fun.