'Chardonnay Go' Is Like 'Pokémon Go' for Moms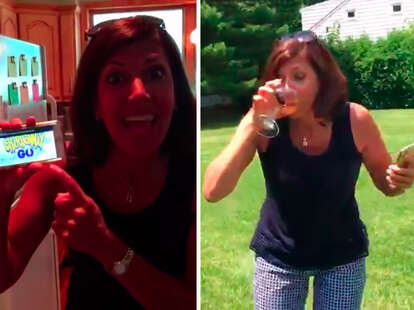 With the crazy number of downloads Pokémon Go has racked up in just over a week (and it's become more popular than porn), it seems that the augmented reality game is for just about everyone. But it's not quite for everyone. That's why blogger Dena Blizzard created a totally made-up version of the game targeted at moms.
Chardonnay Go implores mothers everywhere to turn away from the Charizards and toward the Chardonnay. "Did you know there's an app... where you can actually find glasses of chardonnay all over your neighborhood?" Blizzard asks in the video, before sprinting out the door like she may have been playing the game for a few hours already.
"It's really simple, there's actually a glass really close to my house right now!" She takes her phone and game on the go, searching around her house and the garbage until she discovers a glass of Chardonnay under a tree, and then another across the street. Find a glass, take a sip, set it down, repeat. That's all there is to it.
On the downside, you don't get to keep the Chardonnay the same way users get to keep their Pokémon. On the other hand, Pokémon aren't real, there's no training your glass of Chardonnay, and this game is played with wine. Point, Blizzard.
Sign up here for our daily Thrillist email, and get your fix of the best in food/drink/fun.
Dustin Nelson is a News Writer with Thrillist. He feels like the Whiskey a Go Go looks like a missed opportunity now. Follow him @dlukenelson.