This Travel Company Is Giving Nurses Free Mexico Vacations (for Later)
Nominate a deserving nurse to hang out on a beach, finally doing nothing.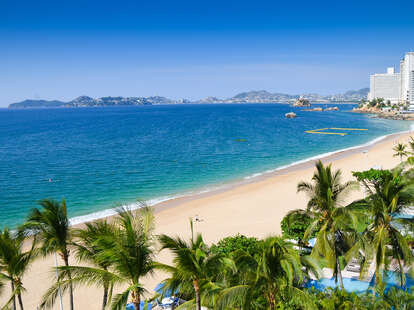 Rafal Kubiak/shutterstock
Everyone's tossing free food and drinks at nurses right now, but a hot coffee handout at Starbucks starts to lose its shimmer when your sleep schedule is as inconsistent as COVID-19 messages from the federal government. What the nurses really need is rest.
But the booking website CheapCaribbean.com seems to understand a healthcare worker's desires perfectly, because it just announced that in celebration of National Nurses Week (May 6-12), it will be handing 50 nurses a three-night, all-inclusive stay in Mexico. The website calls the giveaway "Beach Shift."
"Nurses have made incredible sacrifices during these" *flinch* "unprecedented times," it says on the giveaway's submission page. "To show them our gratitude for everything they do and for helping keep us safe, we're giving them a shot at a free beach vacay!"
Basically, the website will randomly select one nurse in every state to stay at a Riu Hotels & Resorts property for three nights, at any time between August 1, 2020 and December 15, 2021.
There's only one major womp-womp in this situation, which you can read in tiny print on the competition page: "Air is not included." (I'd say that you should try to buy your flights in October, because tickets are pretty cheap then, but it's obviously hard to know what the pandemic will look like at that point.)
Nominations will be accepted between May 6 and 12. All you have to do to put someone's name in the mix is share why you think this nurse deserves to take a "Beach Shift." Thing is, it's random, so don't sweat too much about it -- it's obvious that all nurses deserve a little paradise right now.
Sign up here for our daily Thrillist email and subscribe here for our YouTube channel to get your fix of the best in food/drink/fun.
Ruby Anderson is a News Writer for Thrillist. Send your tips to randerson@thrillist.com.