It might seem like a strange place to head in the winter, but between driving the Ring Road or soaking in a hot spring as the snow falls around you, Reykjavik is a fantastic vacation destination. 
That makes the current deal from WOW Air attractive. They're flying round trip from Washington D.C./Baltimore to Reykjavik for just $200. Cheap flights are available to other cities as well (see below), but that's the best deal right now.
Recommended Video
Harley Morenstein Eats Finger-Licking BBQ Wings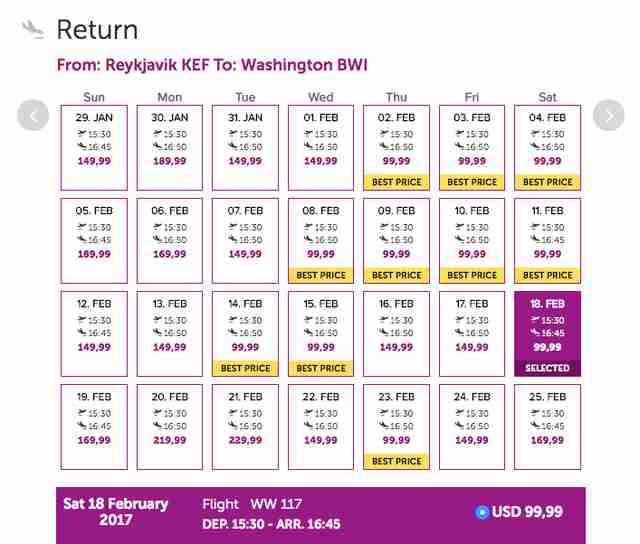 The bulk of the cheap tickets are in late January and February, but you can use WOW Air's Flexible Date Calendar to find good prices in a few different configurations, as you can see above. 
WOW Air is a budget airline and you'll get dinged for everything this side of going to the bathroom. But if you're able to travel light, you can make it a reasonably priced trip. To not have to pay for your carry-on, it has to be pretty light and they weigh bags. Be sure to check the baggage policies before purchasing tickets.
There are good prices leaving other cities as well. The long haul from Los Angeles to Reykjavik can be made for just $300 and flights out of San Francisco are going for $310. There are also trips leaving New York and Boston for $339. As always, the prices can change rapidly, so if you want tickets at this price you have to jump on it.
If you're putting up with frigid temperatures anyhow, you can do worse than spending time in natural hot springs and riding horses across frozen lava fields. Get on it. 
h/t The Flight Deal
Sign up here for our daily Thrillist email, and get your fix of the best in food/drink/fun.