Flights to Costa Rica Are Crazy Cheap From All Over the U.S. Right Now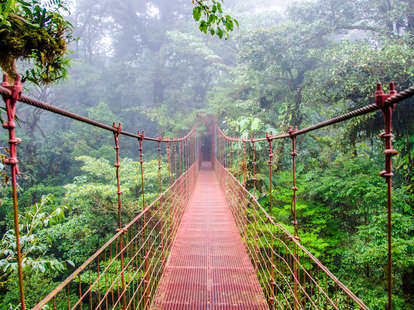 Shutterstock.com
Shutterstock.com
There are many reasons to take a vacation in Costa Rica. There's the rainforest, surfing, butterflies, and hot springs, to name just a few compelling justifications.
You can get there on the cheap right now because of low fares you can find at Kayak.com. In fact, you can fly round-trip to San Jose in Costa Rica for $215. Many of the cheapest flights are from the southern US, but there are below-average prices to be found in almost every part of the country for trips predominantly found in the month of May. However, you can find cheap flights to Costa Rica between August and November.
You can get to Costa Rica from Orlando for $215, Houston for $227, Los Angeles for $231, Las Vegas for $245, New York for $264, Washington DC for $279, Chicago for $281, Dallas or Pittsburgh for $289, Philadelphia for $302, Boston for $304, San Diego, $315, San Francisco for $320, Columbus for $343, and Nashville or Indianapolis for $349.
The airlines you'll find through Kayak vary, but they're not budget airlines so in many instances the price you're seeing is the all-in price. Though Kayak has the lowest prices seen at the time of publication, it's worth shopping around anytime you're buying tickets. Check sites like Google Flights or Momondo.com to see if you can shave a few dollars off the fare.
Take advantage of the cheap flights while you can. Prices this low tend to disappear quickly. They're current at the time of publication, but could be gone within hours. So jump on it before you lose your chance to get to a rainforest for just $215.
Sign up here for our daily Thrillist email, and get your fix of the best in food/drink/fun.
Dustin Nelson is a News Writer with Thrillist. He holds a Guinness World Record but has never met the fingernail lady. Follow him @dlukenelson.