Somehow, there's another damn nor'easter poised to strike the east coast this week. Despite the parade of snowy days and wet socks, the first day of spring is just days away. That means it's time to figure out what to do with your summer vacation.
WOW Airlines has a sale running right now featuring cheap flights to Europe from cities all over the United States. The cheapest treks you'll find are from Boston or Pittsburgh to Reykjavik, Iceland. You can get one-way flights for just $99 on that route and round-trip tickets for $199.98.
Other deals highlighted in the sale include cheap flights out of Los Angeles to Reykjavik ($129.99), London ($169.99), Copenhagen ($169.99), and Stockholm ($169.99). There are also deals out of San Francisco to Reykjavik ($135.99), London ($177.99), Copenhagen ($177.99), and Stockholm ($177.99). If you're in Boston or Pittsburgh, you can make your way to London, Paris, Amsterdam or Frankfurt for $149.99 one-way. All of those routes include a layover in Iceland, which can be a very good thing.
Out of the US, WOW flies from Boston, Chicago, Cincinnati, Cleveland, Dallas, Detroit, Los Angeles, Miami, New York, Pittsburgh, San Francisco, St. Louis, and Washington DC. Being a budget airline, you can dig up cheap flights out of most cities on a regular basis. 
Recommended Video
Tijuana's Lucha Libre Is Like Watching a Live-Action Comic Book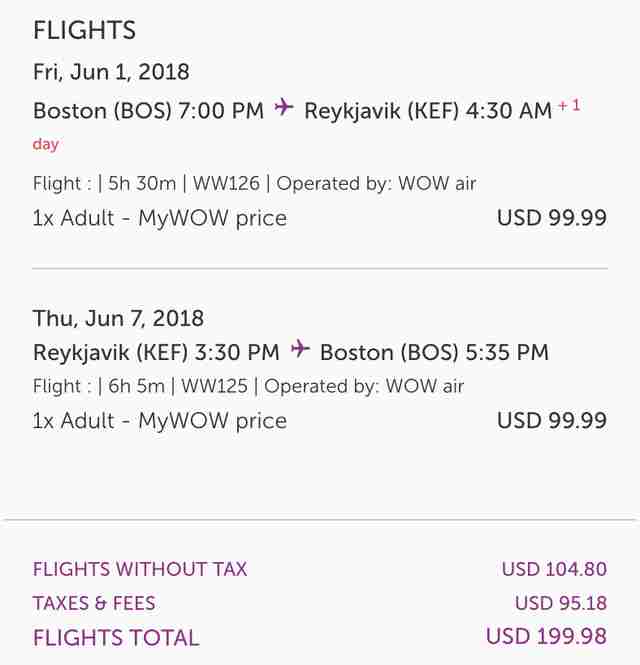 Of course, there's fine print. Flying out of Boston of Pittsburgh, those prices are good on trips from April to June. Out of Los Angeles, the prices are available for flights in September and October. San Francisco has those prices to Europe in April, May, September, and October, but only in September and October if you're headed to Iceland. 
The sticker price is impressive, but WOW is a budget airline. So, it's worth looking at the other prices you might pay along the way. You get a free personal item, but a carry-on is $39.99 and one piece of checked luggage is $49.99. You can tuck a little food in your bag, but if you don't a full meal will run you $9.49.
If you prefer a non-budget airline where luggage is included, and the amenities are nicer, Icelandair might be your best bet. Thrifty Traveler recently highlighted the excellent prices Icelandair has right now. That includes flights from 25 US cities for around $290 roundtrip and a $309 round-trip fare to Reykjavik from New York City. 
Sign up here for our daily Thrillist email, and get your fix of the best in food/drink/fun.