It's a good time to be digging for cheap flights. They're everywhere. There's a Southwest fare sale happening through March 29, cheap round-trip tickets to London, and absurdly low prices on flights to Hawaii.
Add this sale from WOW Air to the list. The sale has cheap flights out of 13 US cities to locations all over Europe, including London, Berlin, Paris, Brussels, Copenhagen, Stockholm, Barcelona, and many other worthwhile destinations.
However, the cheapest tickets are to Reykjavik, Iceland. You can find one-way flights for $99.99 (and in many cases round-trip fares for $199.98) out of Boston, Chicago, New York, Pittsburgh, and Washington D.C. There are also enviable prices to Reykjavik flying out of Cincinnati ($104.99), Cleveland ($104.99),  Dallas ($149.99), Detroit ($119.99), Los Angeles ($129.99), Miami ($279.99), San Francisco ($135.99), and St. Louis ($104.99).
Recommended Video
Here's Our Travel Guide to This Nation of Over 7,000 Islands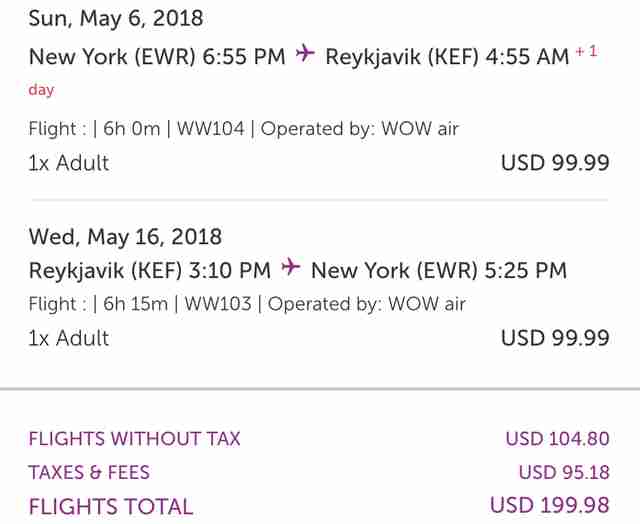 Other deals include $149.99 one-way flights to London, Berlin, Paris, and elsewhere from Chicago, New York, Washington D.C., and Boston. There are $156.99 one-way flights out of Pittsburgh, Detroit, St. Louis, Cleveland, and Cincinnati. And you can head to Europe from Los Angeles for $169.99 or from San Francisco and Dallas for $177.99. 
The sticker price is alluring. It can result in a cheap trip at the end of the day. But know going into your vacation planning that WOW is a budget airline and some costs are hidden. Unless you upgrade your seat, you'll need to pay for any luggage beyond your personal item. You'll also need to pay for a meal if you aren't bringing your own. 
Nevertheless, there are plenty of ways to build a frugal trip with these tickets and then do something outstanding, like driving the Ring Road. 
Sign up here for our daily Thrillist email, and get your fix of the best in food/drink/fun.